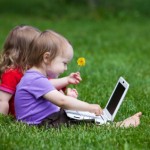 I thought our little family was doing pretty darn good when it came to moderating screen time.
I mean, I have always been very intentional about our kids and TV viewing; and up until this past Christmas no one owned any handheld gaming device or iPad. My iPhone is still relatively new to me and I never seemed to mind not knowing what was waiting for me in my inbox until I got home.
Fast forward a few months and our family has officially entered the 21st century.
We are in it deep. Screens surround us. We're connected wherever we go.
The convenience and immediacy of it is amazing. Don't get me wrong. There is no going back. But, I'm struggling to find that balance. For sure. And, the fact that I have to set timers for my kids so they know when the iPad must be closed, or when it's time to stop watching hulu on my iPhone…I know we've drifted off course somehow.
And I'm no better. Checking facebook, twitter, and my e-mail whenever and wherever…it's addicting.
Sure I have some hard and fast rules for our kids like no TVs or screens of any kind in the bedroom. The dinner table is absolutely off limits to any electronic device. We aim to limit total screen time to no more than 2 hours a day and are big believers in commercial free and age appropriate programming.
Some days we come out ahead, and some days…well, turning on the tube/iPad/computer/iPhone is all I can do to sneak in some exercise or make dinner in peace.
I'm definitely a huge believer in moderation.
Still…I can't help but think this little family of ours needs some media detox. I've been starting to feel that pang of connected but disconnected. And anyone on any type of social media space knows what I mean when I say that.
So, when I heard about Screen-Free Week coming up on April 30th, the hubs and I thought this would be the perfect time to do just that.
Media detox.
Quite honestly, the thought of it gives me palpitations. I don't want to. But I do.
When I broke the news to Big Brother, I'm not kidding…his eyes filled with tears as he asked incredulously…for 7 whole days?!?
Yeah…we need that detox.
Little Sister was more concerned about  missing her beloved Doc McStuffins for a whole week and who can blame her? I love that show too.
What I hope to find at the end of that week is clarity. Though I have a feeling I already know what I'll find.
Time.
Time to go on after dinner walks. Time to play some board games and read books. Time spent in the backyard while I make dinner. Time talking in the car instead of Big Brother on his DSi or Little Sister on my iPhone.
So as much as I'm dreading this upcoming screen-free week that will start two weeks from today…I know it's exactly what we need to get us back on track.
Because all the connectedness in the world won't mean much to me if I'm disconnected from those I love the most.
What's the longest amount of time you've gone dark for? Do you think you and your family could do Screen-Free Week?
Pin It