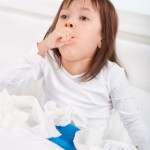 If you've ever had a child with croup, you know that telltale, harsh, barking cough well. It's unnerving and unmistakable. And usually, the worst of it happens at night, when you're bleary eyed, exhausted, and full of worry.
Parents primarily want to know what they can do for their child in those midnight hours and if they should be worried and take them in to be seen.
Before I give you some tips on how to ease your child's cough, let's first determine if it is, in fact, croup you are dealing with.
Does my child have Croup?
Croup starts out like a regular run of the mill cold; with runny nose, congestion, and fever. The fever can be quite high. 104 F in some cases. Soon after, you'll hear it…that "is there a seal barking in my living room?" cough. Then, you'll know…yes, my child has Croup.
Why/How did my child get the Croup?
Croup is extremely common in young children. It's caused by a virus (namely, the parainfluenza virus) and is transmitted in much the same way as colds and the flu: droplets from sneezing, coughing, and hand to mouth transmission. You'll see (and hear) more children with Croup in the Fall and Winter months.
The virus causes swelling and irritation of your child's larynx (voice box) and trachea (airway). This is exactly why your child will likely have a hoarse voice and why you hear that terrible sounding, harsh, barking cough.
What can I do for my child? (Especially in the middle of the night)
When you're awakened by the sound of your child coughing that awful sounding cough, take heart, you can help him feel and sleep better. If your child is awake and cannot sleep because of the cough, take him to the bathroom and have him sit on your lap while a hot shower is running. The warm, moist air will soothe his airways and soon you'll notice the coughing has decreased.
Cool mist humidifiers work great too and in the same way. The moisture in the air, calms the swelling in the airways and can ease the severity of coughing. It's not unusual to hear of worried parents packing their child up in their car and rushing off to the ER, only to discover that once they get there, their child's cough has almost completely resolved. Why? The cool nighttime air aided in soothing those irritable airway.
In addition, make sure to keep your child well hydrated throughout her illness by offering frequent amounts of clear liquids. If she has a high fever that is making her miserable, offer her the correct dose of acetaminophen or ibuprofen. Also, see my post on fever.
Okay, so when should I be worried?
In general, and in most cases, Croup is a mild and self limited viral infection lasting between 3-7 days. The harsh sounding cough is typically the worst of it. However, there are times (especially in very young children) when you should worry and have your child seen by his doctor.
If your child makes a high pitched squeaking sound when he breathes in (stridor), this is an indication that his airway swelling is more severe and could potentially interfere with his breathing.
Your child appears dehydrated, extremely fatigued, worried, or is having labored breathing.
You child looks very ill.
These are all reasons to seek immediate medical attention. In these more severe cases of Croup, your child's doctor may give her some steroids to help decrease airway swelling or a special breathing treatment. She may also need to be observed in a medical facility before returning home.
Now you know…you can help your child get through Croup and you know when you should worry.
What has been your experience with the barking cough of Croup?
Pin It