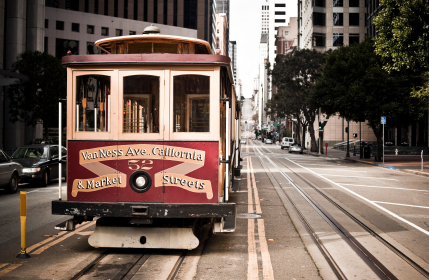 Winter break with my little family of four has been many things for these past two weeks. I relished in our closeness as we played games by the fire. I almost pulled all my hair out listening to the endless bickering between Big Brother and Little Sister as they spent the last two weeks with each other 24 hours a day, seven days a week.
Surprisingly, they bonded. We all bonded.
We laughed, we cried, we sang, we decorated, we ate, we traveled, and we had new experiences. It was crazy, fun, quiet, and loud. We had (mostly) a lovely time.
We rode The Polar Express, we watched Little Sister dance in her Christmas recital, we admired spectacular Christmas lights, we spent a nice evening with friends who are truly like family, we spent a miserable hour out in the darkness amid rain/wind/mud waiting for a secret Santa adventure that was never to be, we hosted family for a New Year's Celebration, and finally the highlight was spending two nights in the heart of San Francisco.
So yes, we had a great, crazy, busy, and fun time. We have some stories to share. But you know what? I missed writing. I missed blogging. I missed all of you.
While I am a bit sad to see our winter vacation come to an end, I am quite happy to get back on a schedule and do some more writing.
I hope all of you had a wonderful holiday with your families and I look forward to reading about all of your adventures.
What was the highlight of your winter break? Are you looking forward to getting back on schedule and getting the kids back to school?
Also, I'm over at
Our Mommyhood
today sharing some tips on how to
soothe your child's cough and
congestion, the natural way
. We certainly had our fair share of a terrible cough and cold over winter break.