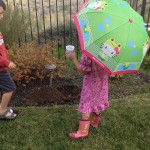 I had no idea where she went. I thought she didn't want to hear anymore of my fore-warnings or failed attempts to make it all okay. My husband and I had been prepping her for weeks…any day now, honey. Pinkie's not looking so good.
Somehow, on that night, at 5 years old, she knew. She took one look at Pinkie and headed straight to her art table.
I peeked in on her and could see tears streaming down her cheeks. She was diligently making a picture for her beloved Pinkie. The one she chose. The one she plucked from our local pet store; the purple sparkly fish whose name she insisted, must be Pinkie. A pink fish tank and rocks to match. It was quite the sight.
I wondered what she was thinking, sitting there drawing hearts, flowers, the sun…and Pinkie.
I didn't have to wonder for long…Mom, help me spell this: Pinkie, you are the best fish we could ever have had. We love you and will always love you. Thank you for being the best fish ever.
And with that, she calmly walked over to Pinkie's tank on the kitchen counter. She pulled her close and just started talking. She stood there, her tiny arms around Pinkie's tank and just talked to her, her picture set carefully behind her tank so she could see it.
It's okay. We love you. We will never forget you. You are the best fish ever, Pinkie. I will miss you.
She cried silently and wiped away her tears, then walked to the next room and sat with me on the couch for awhile.
And I'm not kidding you…Pinkie died that night.
After weeks…months…of hanging on.
I know Pinkie's just a fish and she's just a 5 year old girl…but darn if that little fish wasn't waiting for her best friend to say good-bye.
And this is what children do best…they teach us. How to love. How to live.
How to die.
With sorrow, honesty, love, and hope…always hope.
They teach us that though death may be scary and we don't like talking about it…it's okay to talk about it. It's okay to tell those that you love how much you love them. Right here, right now, today. You can say good-bye without really saying good-bye forever.
Love is never lost. Memories live on. Pictures are drawn and stories are told.
And sometimes, fish are buried in the backyard with a special note written by those who loved them the most.
Never to be forgotten.
This is the magic of children.
They seem to understand intuitively, what often takes us years to remember: that grief, a celebration of life, and a promise to never forget are all entangled in the moments of death.
Love never dies.
And for all our efforts to protect our children from the pain of death, the pain of losing a loved one…I think it is they who protect us.
Pin It