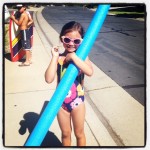 Doesn't this picture make you think…oh, how fun. A nice, laid-back summer afternoon…heading to the pool.
But parents, we know the truth. And the truth is the moments (or what seems like hours) leading up to this adorable picture (if I do say so myself) were anything but fun and laid-back.
Sunscreen. A must before heading out into the sun for a day spent poolside.
The drama. The tears. The protests.
All over sunscreen and the terrible notion that you want to protect your child's delicate skin from the potential damaging rays of the sun. It's enough to make you lament the time you spent in the sunscreen aisle. Pouring over the labels. Trying to recall what you've read about which ingredients are good and which are not so good. You contemplate SPF, physical vs chemical, spray vs. lotion, scented or unscented. You even pull out your handy smartphone to do a quick Google search on the one you're holding in your hand.
I know you've been there too. I've seen you. I may even have been standing right next to you, with the same confused look, unable to make a decision.
And then you finally do. You grab a few and head to the check-out line only to discover you've spent a small fortune on 3 tiny bottles that no one will appreciate but you.
Am I right?
So in an effort to make the sunscreen decision process easier and less confusing, here's what you need to know…
Sunscreen Simplified
Choose "broad-spectrum". This label is important and most sunscreens today have this, so just be sure yours does. You want protection from both UVA and UVB rays. Seeing these words means you're good to go.
SPF 30 is ideal. Don't bother with the SPF 50 or greater. It's misleading and doesn't mean you can stay out in the sun any longer. You still must reapply every 2 hours no matter what.
Water-Resistant is important if you're heading out for a day by the pool. New FDA labeling guidelines no longer allow sunscreen makers to claim their product is water-proof. Which is a good thing. Most "water-resistant" sunscreens are good for 40-80 minutes max so be sure to reapply after swimming or excessive sweating.
Chemical vs Physical sunscreens? Choose what's right for you. Children with eczema and/or sensitive skin will do better with a physical sunscreen since it lays on top of the skin and typically does not contain dyes or perfumes. Chemical sunscreens get absorbed into the skin, rub in better, but can be irritating to sensitive skin. I love the EWG website for these purposes. Check your favorite sunscreen there and see how it measures up.
Spray or Lotion? For kids, I prefer the lotions. The spray (to me) just doesn't seem to cover well, gets in their eyes/noses, and has a small potential for being a fire hazard (yikes…see this). My husband, however loves the spray for himself and I have to admit, I do find it useful for reapplication when we're at the beach and I'm rubbing sunscreen onto gritty/sandy little bodies.
Summer is meant to be enjoyed outdoors, so always bring the sunscreen. Use it daily, even on overcast days. And yes, I do believe it has to be one of the worst mom chores. Check out this slideshow of kids getting their sunscreen on. See your children in any of these? Number 8? SO my child…though he's much better now.
For more sun and sunscreen safety tips, check out this excellent slideshow. And remember that sunscreen is just one part of the whole sun protection package. Use shade, light clothing, hats, and sunglasses to complete that package. Bring along plenty of water too.
Now get on out there, enjoy this summer with your family. Minus the sunscreen drama.
Disclosure:  I receive compensation for my participation in the CHPA educational foundation's OTC Safety Ambassador program.  However, the content and opinions in  this post are my own.
Pin It