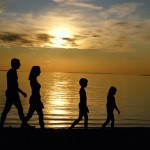 Walking in the door after a long day of clinic is both the best and frankly, the hardest part of my day. I still get the running with excitement to greet me…sometimes even with homemade art projects thrust into my face. All in the name of love.
And I love it.
But I'm exhausted.
And I fight the urge to just plop on the couch and decompress for the next two hours until bedtime rolls around. But I know I can't. I know these moments between walking in the front door until the lights go out after the last bedtime story have to count. Otherwise, it's just one day flowing into the next…and we all know how kids grow at lightning speed.
I want these moments with our kids to, well, shine. Stand out. For better or for worse. I know the tears, sibling squabbles, and a fair amount of whining are all part of the treasured family time package.
But I keep telling myself it's worth it. And it really is. I'm pretty sure my husband agrees…though I know he's just as exhausted and wants to lapse into a mini coma before switching gears.
So, here are my 5 tips for reconnecting as a family after a long day at work:
Eat Together
If you can. I know not every night can be family dinner night. Sometimes, one of us just gets home too late and the kids are starving. So we roll with the punches and try not to beat ourselves up over it. But when we do…sure it's chaotic (our kids are 5 and 8), but it's definitely worth it. Whether it's home-cooked or take-out; sitting together at the dinner table after a long day apart is a great way to talk about your days and reconnect.
Play Something
Whether it's a board game or a spontaneous dance off session in the living room; just play. Give in to that game of chase your kids have been begging for. The excited giggles will be your reward.
Get Outside
After dinner walks, bike rides, or swimming are feel good activities for everyone. Mustering up the energy to make this one happen is another thing. But the amazing part is…it's an instant mood lifter. For parents and kids alike. Suddenly, the grumpy moods, whining, and squabbles disappear. For the next half hour at least.
Sit and Read
Sometimes everyone (including the kids) needs some time to decompress. Why not do it together? Sit with your kids for 15 minutes, cuddle, and maybe read a favorite book together. It's a great way to feel reconnected after spending the day apart. And if done before the mad dinner rush…it really can make the rest of the evening flow much more smoothly.
Savor Bedtime
I used to savor bedtime for a different reason…the kids would finally go to sleep and my husband and I could have some quiet time. Now? Well we both relish this time with our kids (for the most part), and aren't in a rush to just be done with it already. Sure, we're exhausted but it's honestly the best time of the day to cuddle, relax, read books, and talk with them. They seem to open up right before the lights go out. Hearing their little giggles transform into those deep/slow breaths of sweet slumber is the best punctuation to a long day.
Whatever you do as a family at the end of the day…just make an effort to be together. Nothing fancy. No planning required. Just be in the moment.
How do you reconnect as a family after a long day at work?
Pin It