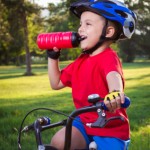 Hurray for summer! The kids are home, staying up late, and not sleeping in. Oh, wait…that's not necessarily cheer worthy. Nonetheless, once you finally settle in to the summer routine; you have to admit, summer is pretty great.
And when it comes to kids and summer…well, the reality is they aren't exactly endless. Our inner voices are constantly chiding us to embrace and cherish this summer we have with our children. So, whatever you have planned (or not) for this summer; here are some easy ways to summer proof your home.
Because the last thing you want to do this summer with your kids is worry.
Toss all expired sunscreens and insect repellants. Now's the time to check your sunscreen stock. Have any of them seen better days? Sunscreens have a shelf life of 3 years. Definitely toss if the color has turned. Using expired products can reduce their efficacy.
Check that all detergents and laundry products in the laundry room are kept up and out of reach; not on top of the washer or dryer. No doubt your washer and dryer are working over time this summer with a constant supply of wet bathing suits and dirty beach towels. Make sure this high traffic room is safe for your little ones.
Check your house and yard for standing water. Not only is standing water (mere inches) a drowning risk for toddlers and preschoolers, but left outside it can become a breeding ground for mosquitos. Always empty out that kiddie pool when you're done.
Make sure your backyard pool has a 4 sided fence with a self-latching gate. And never underestimate the importance of touch supervision for toddlers and young children. According to the CDC, accidental drowning remains the second most common cause of accidental death in children younger than 15 years old. So safety precautions and vigilance are key.
Keep fire extinguishers stocked in the kitchen and on every floor in the house.
Make sure you have a carbon monoxide detector. These can easily be purchased and plugged in to the wall. Make sure every floor in your home has one.
Clear the bathroom clutter. If you have little ones, make sure all cleaning supplies, medications, and toothpaste are kept up and out of reach.
Secure televisions and other heavy furniture to the wall.
Prepare and keep handy two First Aid Kits. One that's ready to go when you are and the other to keep at home. Make sure to include tweezers (for those awful little splinters or to remove a tick), alcohol pads, antibiotic ointment, a travel size cold pack, and bandages in different sizes.
So, once you've done a mini summer safety home check, have fun with your family. Stay up late to star gaze, roast marshmallows, and create memories to last a lifetime.
I'm proud to be working with both the AAP and P&G as they collaborate to get important safety messages out regarding home safety and children. For more safety tips, visit P&G's Safe Home page.
Pin It