Did you know that over of 80% of ER visits among kids less than 12 are due to accidental or unsupervised medicine ingestion? This translates into over 70,000 ER visits in children less than 18 for unintentional medication overdose.
Children getting into over-the-counter and prescription medicine is a huge problem.
And we know that accidents happen, but in an effort to dramatically reduce the number of children harmed by accidental medicine ingestion, the CDC has partnered with the PROTECT Initiative in spreading this safety message far and wide. To parents, caregivers, grandparents, and healthcare providers.
The Up and Away campaign is part of this initiative and is helping to remind parents what safe medicine storage looks like.
Want to see how we do it in our house?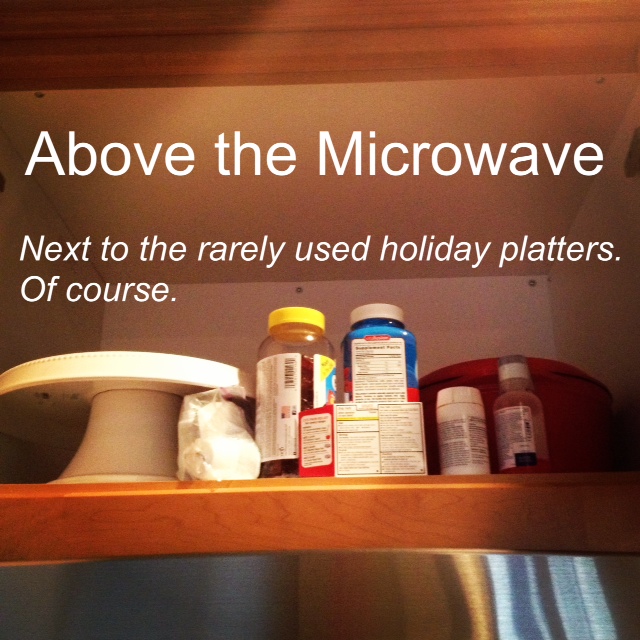 Nothing fancy or elaborate…just up and out of reach. This is how we keep vitamins, prescription medications, and OTC products out of the little hands in our home.
It's tempting to leave daily medications such as vitamins on countertops for easy access and a visual reminder. But…this is NOT safe. Even vitamins (which are visually appealing and taste good to kids) can cause serious medical problems if taken in excess.
So, remember…Up and Away…always. No matter what. Even on vacation. Everywhere you go.
Now, I invite you to share your photos of how you keep your medications Up and Away. Be part of the solution and help spread the word. Share your photos on Twitter and Facebook using #MedsUpAway.
**I receive compensation for my participation in the CHPA educational foundation's OTC Safety Ambassador program.  However, the content and opinions in this post are my own**
Pin It