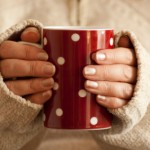 **It's that time of the year, when the Christmas rush starts to loom down on all of us. Stress can easily seep into what should be a more enjoyable time of year. But…it's inevitable…there's just so much to do. So…in my effort to bask in the holiday moments with my family, I thought I'd share this post that is still so dear to my heart. I wrote it almost exactly one year ago today. And? Look at the facial expression on my son below. A timely reminder for me to try and purposefully slow things down and take it all in.
Enjoy and do your best to bask in the joy and magic of this time of year with your family. There's Christmas lights to be seen, movies to watch by fireside with hot chocolate in hand, Santa letters to be mailed, Gingerbread houses to be decorated, and don't forget that darn Elf on the Shelf (yes, we have one and yes, we love him).
Oh, and if your child asks to take an impromptu detour to the park even though it's not on your schedule for the day? Just do it. I promise, you won't regret it.**
_____________________________________________________
When I picked my son up from school on Monday, I had a lot on my mind. Exactly one hour was all we had to run a quick errand, go to the grocery store, and then off to pick up Little Sister.
I see him and immediately remind him that we're in a bit of a rush.
His face slightly drops. But, I thought you were taking me to the park so I could ride my bike.
My face drops.
Oh yeah, I think, I did promise didn't I? Looming deadlines, unfinished Christmas cards, and lack of groceries swirl around in my head. I don't want to, I think with immense guilt. But, I did promise.
So, off we go…to the park.
He hops out of the car, eager to get on his bike…no wait, I want my scooter first.
Helmet is secured and he's gone.
I drag myself to a nearby bench and sit. I can't help but think of my unfinished business. I check my phone for any new emails. Now if only I had my Christmas cards, I could start addressing them.
Mom! Look at me!
He's rushing toward me with a crazy, albeit joy filled look on his face. I'm a little worried he's going to crash and burn.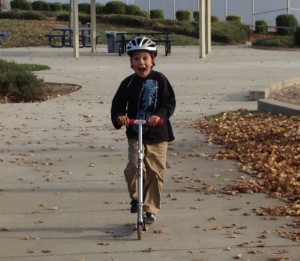 Come on mom…follow me!
I reluctantly put my phone away and get up. I follow my boy…in boots that were not necessarily made for walking.
His excitement, his joy, his living in the moment…it's immediately contagious. I feel my body relax. I follow him along that tree lined path that is gorgeously strewn with newly fallen leaves. I start to jog (awkwardly, I might add) so I can be closer to him.
Watch me ride through the leaves.
I do. I watch. I stand there amazed at the beauty around me. Him. The trees. The leaves. The crisp, cool air.
Beautiful.
He fades into the distance as he loops around the path. All I can hear is ba-dum, ba-dum, ba-dum as he scoots over the pavement.
Then he reappears with that crazy face. Full of light and joy.
He is relishing in every single second. Soaking it all up.
He runs, rides, and plays with pure abandon. His joy is unadulterated by looming deadlines or tedious to do lists.
He is just being. He is in the moment.
And I want that.
I want to be like him.
This kid who loves life. Loves being outside. Loves riding bikes, being chased…flying like the wind through those leaves.
What a cool kid.
The coolest.
And, I almost missed it. Almost missed those precious 45 minutes with my 6 year old son.
It's only now, in the quiet of the night when the kids are asleep and no one is whining, complaining, or kicking each other under the table, that I truly realize what a gift those moments were.
I will no doubt spend the rest of my life trying to recreate moments like that.
An unwelcome detour that ended up being a moment seared into my memory forever.
My moment with the coolest 6 year old in the world.
**This is a special re-posting and was originally published on December 15, 2011**
Pin It