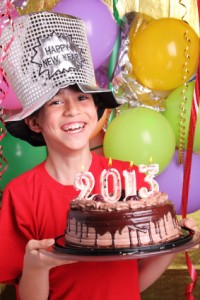 Happy New Year!
As you head into the new year, may you reflect on all that 2012 was to you. The good, the bad, and the simply amazing.
May the New Year bring you and your loved ones much love, good health, kindness, laughter, and open doors leading to exciting new adventures.
I'll be surrounded by family just as it should be on this New Year's Eve.
Thank you for coming here to read, comment, and share your own parenting and children's health stories and experiences.
I love writing. I  love being a pediatrician. A wife. A mom. And I certainly love sharing it all here with you…..parenting triumphs and pitfalls included.
I've never been much of a resolution maker but I sure do believe in fresh starts and re-evaluating priorities.
Topping my list for 2013 are getting enough sleep, committing to regular date night with my husband, saying Yes more than No when it comes to my kids' impromptu requests for making bird feeders or conducting science experiments; but more than anything I aim to worry less, do more, and steal away time to really enjoy the small moments.
Here's to a wonderful 2013.
Make it what you want it to be.
What are your resolutions, goals, or shifting of priorities for 2013?
Pin It