*This is a special guest post by mom and pediatrician, Dr. Abbie Smith*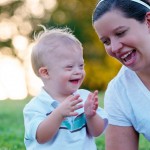 I am a fellow Dr. Mom like Melissa. I am slightly different from Melissa in that I have a child who just happens to have been born with Down syndrome. Since October is National Down syndrome awareness month we thought it would be a great opportunity to talk a little bit about what it's like to be the mom of a child born with Down syndrome.
Although our children may have different needs, I think you will find that they are more alike than different. I thought I would share with you some of my tips for parents who have children with a visible diagnoses as well as tips for parents of their peers.
I think one of our biggest fears as parents today is bullying. When your child has a medical diagnosis that is visible to the world those fears multiply.
My son, Noah, happens to look a little different thanks to his extra chromosome. Down syndrome means that my child has three copies of his 21st chromosome and therefore he has physical characteristics that are specific to his diagnosis.
My Kid Doesn't Want To Be Made Fun Of Just Like Your Kid
I fear that Noah will be made fun of for his visible differences, something he had no control over. It isn't a shoe he put on, or a funny hairstyle, it is part of who he is. We worry about the day he comes home and tells us that he was teased because of his eyes, or the way he speaks. Regardless of diagnosis, you probably also fear your child being bullied.
I am going to do try to do my part to make sure that Noah is included with his peers. Children are usually fearful of the unknown and are quick to point out what makes a child different. We are a few years away from school, but I anticipate going into the classroom and discussing with his classmates why he may look different, speak differently, or have trouble learning so they understand Noah.
Don't you think bullying comes from a lack of understanding sometimes?
I encourage parents who are dealing with a new visible diagnosis to get in the classroom to help other children understand what is going on. I want to answer the kids questions and make sure they know that above all else, Noah wants to play at recess and learn to read just like they do.
There are several resources to help you explain a visible difference in language a child will understand; from kid's books for a specific diagnosis to websites such as kidshealth.org, and even your pediatrician.
If your child does not happen to have a visible diagnosis I think you have a part as well. If there is a child like this in the classroom, I hope you help your son or daughter understand that it is not ok to make fun of them (I will make sure to tell my child the same thing).
If you need help explaining the differences to your child, I am willing to bet that the other child's parent would gladly answer questions for you. Encourage them to also stand up for the child if they are being teased and to tell the teacher. Your child can become an advocate for those who may not be able to stand up for themselves.
My kid Wants Friends Just Like Your Kid
All of our children want friends. Sometimes it is hard, especially if you may appear to be different than what a child is used to. Children with special needs are often separated from the classroom limiting their interaction with typical children. You can help foster these friendships by encouraging your child to reach out and meet one of these kids. It could be a life changing friendship for both children.
Some schools even have programs where your child can become a buddy to those in special education. Outside of the classroom you can walk up to the mom at the playground who brought her child with special needs and make friends yourself hoping your little ones will get along.
Can you imagine the world we would live in if we stepped out of our comfort zone to be friends to those who are not just like us?
My kid Wants to be invited to parties just like your kid
Do you ever worry that your child will never be invited to birthday parties? I sure do. I worry that the child's parents will think they won't be able to manage my child with special needs and thus will be afraid to include him. I encourage you as parents to take the risk. Offer the invite. AFTER the invitation, talk with the parents about how you can make it enjoyable for their child. It could even start with just a play date to see how things go.
We aren't looking for a pity party but simply to have our children thought of as valuable members of the community and that their presence at the party is worth the extra effort which is most case is minimal. Sometimes it takes active measures from both parties to break down the walls between our children and then you will find out that my kid is a lot like your kid. (By the way we're thankful Noah has lots of great friends who invite him to their parties.)

Have you had a chance to talk to your children about children with special needs? If so how did you help your child understand that children like Noah are more alike than different?
*Dr. Abbie Smith is a pediatrician in Dallas, TX and the mother of a child born with Down syndrome. She enjoys helping people learn what it's like raising a child with Down syndrome. She and her husband are creating an online narrative about about their son on their site. Be sure to check out their blog, and YouTube Channel to stay connected to their story.*
Pin It