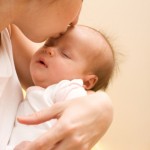 It's 2 am and I'm holding him. Pacing the house with the quiet swaying rhythm that only a mother knows. My arms need rest. My body and soul need a few solid hours of sleep. But I continue to cradle him in my arms.
It's the only place he seems peaceful. The only place he'll sleep.
In the early morning hours, I lament the time I spent rocking my baby. I complain to my husband about my lack of sleep. I search Google for baby sleep solutions. Scour my parenting and children's health books, hoping that tonight…tonight will be the night my babe sleeps for 5 hours straight.
Fast forward seven years and here I am…begging my second grader for hugs. Stealing a forehead kiss as he dashes out the car during morning drop-off. I wonder about his day. Does he sit with friends at lunchtime? Is he polite and respectful to his teacher? Is recess a time of fun for him and his friends or does it stress him out?
Is he safe, happy, thriving?…and the list goes on.
I now long for the simplicity of sleep-deprived nights, cradling a baby in my arms.  When all he needed was me. Holding him. Singing to him.
Loving him.
Now? It's complicated. Already, at 7 years old.
Frustrations, hurts, stresses…not just a cradle rock away within the confines of my arms from making it all better. His world is bigger now. And my part in it seems tenuous and fragile.
I remember being in the thick of it, seeking advice from dear friends who had entered motherhood before me. At the time, their advice was simple but hard to heed…just hold your baby, it all goes by so fast.
And it does.
And you know it does. But in your sleep-deprived abyss, you cannot even fathom 2o minutes from now, much less seven years.
So, if you're in the thick of it…searching Google for "ways to get your baby to sleep" or "why doesn't my baby sleep through the night yet?"…
First? Hand your precious bundle over to your partner, your mother, or your best friend. Get a solid night of sleep. Then? Hold that baby like there's no tomorrow. Because, quite frankly, tomorrow is seven years from now and I've never heard a mother regrettably exclaim…I wish I hadn't held my baby so much.
In fact, it's quite often the opposite.
Pin It