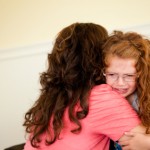 Tantrums…they throw a major kink in our day, ruffle our feathers, and test our patience. They.are.hard. For parents and kids alike. They are also quite fascinating to me. Fascinating because I think many of us misunderstand them and in the heat of a tantrum, we would give anything for it to just.be.over.
Here are a few truths about tantrums. Not because these revelations will make them disappear, but because understanding them is the key to coping and helping your child recover from one (hopefully sooner, rather than later!).
1. It's not about you.
I think in the heat of the moment, we often feel our children are directing all their pent up anger and emotion at us. This can easily put us on the defensive and evoke feelings of anger and frustration in ourselves. But…do your best to take a mental step back from the situation. Take a deep breathe and realize it isn't about you at all. Sure the fact that you said "no" to another cookie may have triggered the tantrum. But this emotional catharsis isn't really about that cookie. It's about big/scary/frustrating feelings that your child just needs to let go of.
2. They happen at the most inopportune times.
Of course they do. In the middle of Target. The school parking lot. The epic meltdown is on display for all to see and you wish you could just crawl under a rock. The reason they happen at the most inopportune times is because we're busy. Plain and simple. We have things to do in spite of our hungry and overtired children. Life happens. We do our best…but some days…it just happens.
3. They are a normal developmental milestone.
If your child never goes through at least one tantrum, I'd be quite shocked. They are normal. Consider it an emotional catharsis. Necessary for emotional growth.
4. It's an opportunity for growth.
Speaking of growth…yes, think of tantrums as an opportunity to help your child deal with these big emotions. Allowing them to release the negative feelings without shutting them down will grow their emotional IQ. And believe me, you will grow as a parent too. Just think, after all is said and done, your patience has just doubled in size. And I think that extra bit of patience will definitely come in handy when we need it the most. Now give yourself a huge pat on the back (and maybe a glass of wine after bedtime) for a job well done.
5. Not just for toddlers
Sure the toddler years see the most frequency of tantrums. It's easier for our preverbal little ones to become easily frustrated and overwhelmed when they can't seem to get their point across. However, toddlers aren't the only ones melting down. Any big transition or major change can send a child of any age back to tantrum territory. Kindergarten anyone?
So there you have 5 truths about tantrums. In my own quest to understand them and deal with them more empathetically, I've also written my weekly Dr. Mom column in The Sac Bee about rethinking tantrums: on understanding, coping, and growing.
What are your truths about tantrums?
Pin It