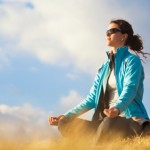 I don't know about you, but September has been a real….
I'll let you fill in the blank.
And judging by the chatter on the streets, I'm not alone. From school pick-up to the halls between dance classes; moms everywhere are tired, on edge, and unsure of which end is up.
I'm no exception. In the thick of it. Wondering when the adjustment phase will expire and we can get into our groove.
The kids are no doubt feeling it too. My littlest has kicked the tantrums into high gear with more frequency and gusto than ever before. She's tired and so am I. When I was commiserating with one of my dear friends as our "happy tappers" (mine not so happy) shuffled into class, I finally blurted out…I just don't think I've got this down. I'm doing it all wrong.
As any good friend would do, she offered up some solid advice without it actually sounding like advice. I know…I've started putting the girls to bed a whole hour earlier. It's been a lifesaver.
Sleep? Oh yeah. Why didn't I think of that, I wondered as I watched my daughter with her tear-streaked face head into class.
I talk about sleep all.the.time. Emphasize to parents how important it is. Why hadn't I been willing to consider that hey, maybe Little Sister could use an extra hour of shut eye?
It's another one of those parenting/pediatrician aha moments…parents hear the advice you dole out but until you make it relevant and use it in real life scenarios (like, you know…this is what I do with my kids. And it works.); they may be hesitant to make any changes.
Needless to say, Little Sister went to bed an hour earlier last night. Thank you, dear friend. See? Sometimes I find it difficult to take my own good advice.
And speaking of advice, moms and dads, this I say to you…September is almost over and soon some semblance of routine will take hold. You will adjust to your new normal. The tantrums will fade. The morning rush will be a bit less chaotic. Homework, dinner, and bedtimes will fall into place. Mondays will still suck.
Everyone will soon embrace the new normal.
And it will all be okay.
Just breathe.
Anyone else having a rough September?
Pin It