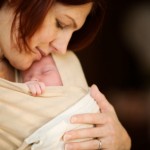 With all the cheering from the breastfeeding sidelines in response to Mayor Bloomberg's Latch On NYC initiative, I can't help but relive my newborn days with my own babes.
What would I do when faced with a well meaning nurse, educating me on the countless benefits of breastfeeding and then asking me to sign a "waiver" of sorts when I sheepishly ask for some formula.
Well, here's what I would want to say, though there's no way those words would spill forth form my mouth through an incomprehensible flood of tears…
Dear sweet nurse asking me to sign a breastfeeding "waiver" of sorts,
I would give anything to be able to breastfeed my daughter. Anything. I'm not over exaggerating either. I'd give my left boob if my right one would pick up the slack and give my daughter what she desperately needs and what I desperately want to give her.
But I'm broken.
Plain and simple.
I wasn't blessed with breasts capable of producing sufficient amount of breastmilk to sustain my babies.
It was a heartbreaking discovery after the birth of my first child. I have IGT (Insufficient Glandular Tissue). I don't know if you've heard of it but yes, it's a real medical condition. As real as the agony, pain, and tears that overcame me each and every time I prepared and fed my son that much needed bottle of formula.
Not every woman can breastfeed. It's not a myth. Not a sign of lazy parenting. And certainly not an indication of how much every woman loves her babe and just wants to be able to provide them with their most basic need.
I understand you are just doing your job, and for that I thank you.
But please know, I am trying to do mine as well. To feed my newborn child. In peace. With love. And without added guilt.
Yes, I am quite aware of the numerous benefits of breastfeeding and breastmilk. God how I wish I could give my children that. I do what I can. I will put my daughter to my breast, as I did with my son. I will give them what I can. Which isn't much. Even with around the clock pumping, supplements to boost my milk production, an SNS, and a crazy amount of hoping and praying.
But…in about 24 hours my babe will start crying out for more. Even my colostrum is miniscule and not enough.
So, do what you must. Sign out that baby formula. Or better yet, get us on our way home.
I don't need a capital "F" on my daughter's bassinet.
I want to go home. Hold my daughter close to me. Skin to skin. Look in her eyes…and feed her with all the love in my heart.
Signed,
A heartbroken mama who cannot even look at you or speak lest I crumble in an avalanche of tears.
Pin It