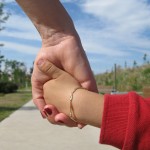 As I walk into the exam room, she's already on the exam table. All 18 pounds of her. She's grabbing her toes and has a wide smile on her face. Her mother and I exchange greetings and we begin discussing her growth and development.
I shine the otoscope light for her to see. First into my mouth. She giggles. Then into hers. I can see her 4 budding new teeth emerging from the top of her gums.
Her mom and I continue talking. I talk to her as well. She's adorable. Before her mother even says it, I already know but she says it anyway…"I've only had her and her sister for a couple of weeks. I'm her foster mom. Their second foster family."
And my heart breaks for these two small children. I glance over at her big sister, waiting her turn. Not even two yet.
The foster mom and I continue talking about speech development, upcoming milestones (like walking and first words), car seat safety, bottle weaning, eating healthy, and the diaper rash that isn't getting better.
In the end, I handed her a prescription for a diaper rash cream.
That's it. And I felt deflated. Because I could not give her what those children need the most.
Their mother. A mother not ravaged by addiction and drugs.
And I see too much of it. Too many kids just like these two.
And all I could do was say a little prayer. That all the hands that come into these young children's lives are gentle and loving hands. That the words that reach their tiny and innocent ears are full of empathy and encouragement. That their first steps, first words, and first days of school won't pass by unnoticed or uncelebrated.
I pray that their little moments do not get lost.
Lost in this parent shuffle. Where they are literally shuffled from one set of hands to another.
I pray they find a permanent, safe, and soft place to land.
And I know there's no easy solution for them. For all the children exactly like them.
But today, all I can do is ask for your prayers, best wishes, good karma, and well thoughts for the thousands of children in limbo. Waiting…for their mothers, their fathers…someone to wrap them up in their loving arms and never let go.
More reading about foster children and how you can help:
10 Things Every Pediatrician Should Know about Children in Foster Care
How you can help children in foster care
Pin It