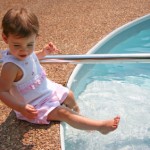 It's true what they say…
…accidents happen in the blink of an eye.
They do. It's cliche. But when it comes to children (toddlers in particular) and water, it's tragically true.
Already in our area, this past week has seen 1 toddler drown in their backyard pool and one in critical condition after falling into a pool.
Accidental drownings among children spike during this time of year.
It's the leading cause of death in children ages 1-4. (CDC)
I'll never forget those horrifying and paralyzing moments of my little sister's near drowning in our backyard pool. She was 3 and I was 6. In an instant she went from munching on a cookie to lying face down in our pool.
It was silent. Instantaneous.
She was inches from me and yet I didn't have the strength to pull her out.
I was paralyzed.
It seemed like an eternity before I got my mom's attention (though in reality it was seconds) and by then my older sister had her out of the pool. What followed was a chaos of screaming, crying, and my mom performing CPR on my unconscious little sister.
I'll never forget our neighbor hopping over the fence, just like that after hearing the frantic cries for help.
I'll never forget my older sister crying and yelling because her "sister was dying".
I'll never forget my mom succeeding in reviving her before the paramedics arrived.
And I'll never forget thanking God that she would be okay.
It literally all happened in the blink of an eye.
Just like it did recently for this mom, whose toddler gained access to their backyard pool through an open gate. Thankfully, they noticed and reached her just in time as she was sinking to the deep end of the pool.
Again, it was silent. No warning. No splashing. Just an accident. A gate inadvertently left open.
Then there was the time my daughter jumped right in to a friend's pool. She was 3. The hubs was thankfully right there.
This time of year, we hear of too many accidental drownings in children. We absolutely need to be aware and remain vigilant with kids and any body of water.
Young children are enticed by water. They are unpredictable around it. So please remember these key water safety rules:
Stay in "touch" with your toddler around water. Touch supervision is a must.
Remember that toddlers are top heavy, they can drown in just inches of water. If they lose their balance in a "kiddie" or "wading" pool they may be unable to right themselves and their faces remain submerged. It's scary but true. Another reason to stay in "touch".
Make sure your pool has a 4 sided, self-latching, self-locking fence that surrounds the entire pool.
Assign a "watcher" at parties where there is a pool. Don't assume someone else is watching the children.
Remember that drowning is silent. Don't think you will hear splashing or cries for help.
Yes, enroll your child in swim lessons but do not assume this makes them drown proof. (AAP)
Learn CPR
Stay vigilant. Do not let your guard down, please.
For more detailed water safety tips, please read this post and these important tips from the CDC and AAP.
These personal stories of close calls and tragedies are important to read and share. You just never know who you may reach at a certain moment in time, ready to make some important changes to their water safety routine.
What stories or close calls do you have to share about children and water?
Pin It