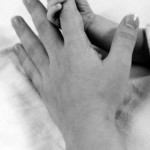 (A special re-posting.
As I take a little blog break, this post came to mind after recent events both personal to me and those that others have endured. This absolutely frames my perspective when it comes to parenting and I get mired in the every day. When I stop to reflect, I realize (as I'm sure we all do) the most important thing in life is family. Our children, our loved ones and their health. Take the time to just be with your children and your family today. Bask in the chaos, the joy, and the mundane…)
I could never have imagined a sound like that. A gut wrenching, heartbreaking, primal scream turned shriek turned guttural moan coming from the mother in that room. A mother who had just lost her son. I will never forget that sound. I can't. No matter how hard I try, I cannot forget.
Years later, the memory of that sound still gives me palpitations, stops me short, and leaves me breathless. From just outside the room where she was draped over her son, that sound reverberated all around us. It shook me to the core and left me there, cold and frozen that night as I made my rounds in the pediatric ICU.
The sobs of the heartbroken mother continued to fill the air. It was suffocating, I had to leave. My fellow resident signing out the ICU to me that night warned me, "…room 3, he's dying, probably tonight. Don't go in there".
Even with a forewarning, nothing can prepare you for it.
As a pediatric resident in my second year, nights like this were not foreign to me . We were surrounded by sick children. Children with hearts that needed fixing, children with chronic diseases, children with cancer, or children struck by unspeakable tragedies. Some would die, some would get better. Some we would soon recognize by name and know their favorite cartoons. Children in an unnatural state. Sick. Some remained isolated from the outside world, only to be visited by family members and medical personnel carefully washed and dressed in sterile gowns.
In a way, I became immune to it all. I had to, we all did. We'd be living and breathing this place for three years. There was no room or time to let the sadness consume us. We all had a job to do.
Now, as a mother of two, it's the eyes of those mothers that haunt me. Those mothers that hoped and prayed that her child would get better…would live. Those eyes revealed the desperation, the exhaustion, the hope, the love, and the anger that plagued them on a daily basis.
Every day that my children bounce out of their beds in the morning, I am grateful. Every day that I hear the laughter, the chatter, or even the bickering that now fills our home, I am grateful. Their health is a gift and I treasure it.
That night in the pediatric ICU, when I was not yet a mother but a pediatric resident listening to that mother's painful sobs, I had no idea what kind of loss she just endured. For me, I was free to go home the next day. My world would keep turning. I had yet to bear any children. My arms had yet to be filled with a crying newborn. I had yet to know the joys of first smiles, first words, or the delicious smell of my child's head.
For her, this was the last time she would hold her child in her arms, the last time she would smell his sweet hair, the last time she would feel his breath on her skin. Memories of him as a newborn, an infant, a toddler, a kindergartner, a child…must have come crashing down on her in those moments. For her, in that moment of her child's untimely death, right then…the whole world shifted.
Pin It