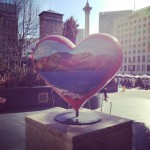 Words have eluded me the last few days. They didn't seem enough. I couldn't quite capture the importance of it.
All I know is that on Thursday May 10th at 7pm, I was exactly where I was supposed to be.
And it felt damn good.
I was lucky enough to take part in something far bigger than my little story.
It was the collective heart of motherhood. And for a brief moment in time, I had the privilege of being witness to its beauty. In all its imperfect, messy, hilarious, and heartbreaking glory.
These are the stories, the heart of motherhood…
Head-over-heels in love with your rambunctious, daring, and defiant toddler.
Mothering and carrying on after a devastating miscarriage. Because to a toddler? It's still Christmas.
Your tot's broken bone that happened on "your" watch, forcing you to eat your own words and move past the inevitable guilt.
Struggling with crippling depression and knowing that taking your daily "happy pill" is more than a matter of choice, it's your duty as mom to two young girls.
Not wanting to become your parents, but becoming them in spite of yourself when faced with explaining the why, what, and how of lesbian grandmothers to your daughter.
The heartbreak of failing at breastfeeding and overcoming that guilt and shame.
Saying good-bye to your teenage son as he boards that plane. For the first time. You, fighting back tears, quietly wondering what if I never see him again?
Then, there's the hope, the need that one day you'd find that long anticipated letter meant just for you. Words from your own mother who passed away when you were just a child yourself.
Lamenting the day you told your college bound daughter to call whenever you need me. Then realize, that texting may just be the solution you need to get off that roller coaster ride.
Looking back through the lens of your own trials of motherhood and discovering how amazing, strong, and inspirational your mother truly is. Not the completely embarrassing one your teenage self had her pegged for.
Living in the actual mother 'hood' and being raised by all your "Mamas" has taught you many things. The most important one? Not to let anyone change who you are.
You might think everyone else does it all. But in reality, we're all doing it. Living our lives. It's messy, chaotic, and beautiful all at once.
These are the stories of motherhood that were laid bare that night.
Told with strength, courage, and a raw sense of humor.
The vulnerability was palpable.
Thanks to these two women, Kim Thompson-Steel and Kirsten Patel, this collective heart of  motherhood was on full display that night in San Francisco.
And my god, it was the absolute perfect antidote to all this TIME magazine cover non-sense.
Because the heart of motherhood? Has no time for sensationalism or judging. It's too busy laughing, crying, and sometimes cursing during this incredible journey that is motherhood.
Pin It