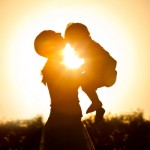 I got knocked down. Completely out of breath. My direction unknown to me.
All perspective lost.
All I wanted to do in those moments of fear, hurt, and humiliation was to hide. To gather up my little family, lock our doors and keep those cruel words at bay. But they assaulted me at every turn.
Yeah, words can hurt. Even when you know, deep down they aren't true. Even when you know it isn't about you. Even when it makes no sense at all.
This is apparently the price you must pay for writing and putting it out there for all to see.
People can be cruel. They can casually toss out insults without any shred of kindness, empathy, or respect. It's something I'll never understand. Something I just can't wrap my head around. And no one will ever convince me that passion for a particular cause excuses disrespectful or hateful behavior. Where's the good in that?
For all the work we do as parents to instill empathy and kindness in our children, I can't help but think what happened along the way?
What happened to these grown adults to make them think that the simple rules we learned in kindergarten such as "do unto others" no longer applies to them?
These are undoubtedly questions I will be asking until the end of time. And it's sad.
But I won't let it change me. I can't. I've got two little children who look to me and my husband for guidance on how to treat others. On how to be strong, yet kind and respectful.
It's easier to be bitter. To lock our doors and keep everyone out. To avoid cruelty by not letting others in or protecting ourselves at every turn. To get mad and want to hurt back.
I refuse to live that way.
Sure, I may have lost my perspective for a brief moment in time. I may have pulled over on the way home from my daughter's dance class as the insults chimed at me into my iPhone and cried uncontrollably at the incredulous cruelty of others. I may have asked over the last few days, is this worth it? Why am I putting myself out there? Why? And seriously considered packing it all in.
But I won't.
I won't be silent. I won't be bullied. I won't let hate and cruelty win.
Because I truly believe we do live in a world where kindness wins, no matter what. Even on the days when it doesn't feel that way.
This is the world I want my children to see.
For kindness is not a sign of weakness, it's the inner light of true unwavering strength.
And we've got to hold on to it with everything we've got.
Pin It