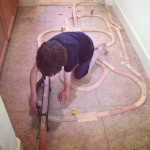 I was thinking I should write about the new strain of Hand, Foot, and Mouth disease that seems to be hitting our area pretty hard. Little ones coming in with fever, drooling, not wanting to eat, and the most distinctive and intense red, blistery rash that I've seen to date with regards to this viral disease.
It's so textbook, it's kind of scary. Typically I'll only see sores in the back of the throat, but these poor kiddos we've been seeing have got it all. On their hands, their feet, in their mouth, and in the case of the toddler I saw today, around his mouth and spreading up his legs.
Poor little guy. It will get better. But for the next few days, his mom has to be vigilant about keeping him hydrated and soothing his painful throat. Love pedialyte pops for such occasions.
However, tonight before I go to bed, I'm thinking of my kids.
My son in particular and how hard it is for him to get to sleep at night. Every night. Since the beginning of his time. Since the days of our harried newborn days together and all he needed and wanted were my arms. Now, his days are spent away from me. At school. Doing what first graders do. Learning, laughing, running, cracking jokes, and shooing me away at drop-off.
The exact opposite of his Little Sister in this respect. Little Sister has always been a champion sleeper and she gladly hops into my arms at a moment's notice. Her bear hugs are proudly displayed for all to see when I drop off and pick her up from school.
Big Brother has a different routine.
Back at home, he bounces from one room to another. Legos get taken apart and put back together. Firetrucks make their way noisily across the kitchen floor. Finally, he plops down on the couch with his latest read, Diary of a Wimpy Kid, and I'm still unsure about my first grader delving into the life and language of said Wimpy Kid. But, he's reading and he loves it.
I huddle up next to him and try to situate him on my lap. I give him a hug, but he quickly scoots off. I've clearly invaded his space. I joke that I could write a book about him and it would be called, Diary of a Not Sleepy Kid. He doesn't think it's very funny and says, don't do that mom.
Okay, I say smiling.
I give him his space. He's so fiercely independent during the daylight hours.
But the nights. The nights are different. His newborn self re-appears but instead of those distinctive cries that only a new soul like a baby owns, his needs at 7 years old are made apparent in persistent yet subtle ways.
Don't leave yet, Mom. Dad, lay with me awhile. I need a drink of water. How did the Titanic sink? It's a good thing gravity is keeping me on this bed.
And so on.
And as I sit here typing away, meaning to impart some helpful information about Hand, Foot, and Mouth Disease, I cannot deny that he's on my mind before I go to bed.
My not sleepy kid who is now sound asleep cuddled up close to his Dad who answered his call tonight.
For most nights when this happens to one of us, we typically grumble and complain about it the next day. A night lost and here we are, set to do it all over again. Groundhog's Day, as the hubs likes to say.
But tonight, tonight seems different.
It could be the impending end of the school year. The reality that a whole year has passed. He turned seven and is finishing the first grade. Another mark on our calendar reminding us that our time is indeed finite.
Whatever it is, right now, before I head off to bed…I'm wishing it was me who answered his call.
Pin It