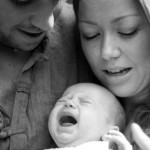 As mothers, we are pretty much hard wired to respond immediately (sometimes even before) when our baby starts crying.
Is he hungry? In pain? Does he have a dirty diaper?
Does he just need me to hold him, talk to him, or let him be?
We go through this mental checklist within seconds as we gently rock our babes, safe in the confines of our warm and loving embrace.
But, what if the crying continues…and continues…and continues…for hours on end?
It's heartbreaking, demoralizing, guilt inducing, and downright exhausting.
I vividly remember one particularly exhausting and demoralizing day with my newborn son. I had already become accustomed to him needing my arms 24/7. He was happy, as long as he was there. Taking showers, eating with two free hands, and going to the bathroom alone were luxuries of the past. I had come to peace with it. Mostly.
Then…there was that day. The exhaustion caught up. He was particularly fussy, and I really wanted a shower. All my attempts to place him in his bouncy, his bassinet, or his crib were met with red faced wails. He had been fed, changed, cuddled. I had already ruled out any potential causes for his increase in crying episodes such as food sensitivities or reflux.
I was at a loss. He was just crying. And in spite of my swaddling, swinging, and offering of the pacifier…he continued to cry. As I carried his tiny swaddled body down the stairs, I could feel my body tensing up and my heart pounding in my chest. I abruptly turned right back around, walked into my room, placed him safely in his bassinet, and walked away.
I even closed the door behind me.
I could breathe again. I went downstairs, lay down on the couch, and took several slow, deep breaths.
After what felt like eternity (in reality, less than 5 minutes), I reentered my baby's world eager to help and hold him once again.
So, when I read this post by a mom wishing someone had told her it was okay to let her baby cry, it broke my heart.
Because here's the thing about babies and crying: we know all babies cry. Some cry more than others…for hours on end. Some we diagnose with colic which is really just a diagnosis of exclusion, meaning there's nothing wrong with the baby, he's just a sensitive little soul (as I like to call them) who needs some time adjusting to the outside world.
Some do end up having food sensitivities or reflux and once addressed, crying may greatly diminish.
But what about these sensitive little souls? Who cry, and cry, and cry in spite of all our best soothing techniques. In spite of the 5 S's…which I loved, by the way.
For these babies, parents really do need to know that this period of excessive crying is actually normal between 2 weeks of age to 3-4 months old. This is explained so well by Dr. Ronald Barr, a developmental pediatrician who came up with the term, The Period of PURPLE Crying. PURPLE is an acronym to help parents understand this developmental stage in their baby's life that can lead to excessive crying.
The other thing moms and dads should know: it's not your fault. You are not a bad mom. Your baby is not a "bad" baby, he's just sensitive, remember? This doesn't mean that all that crying doesn't weigh heavily on your heart. It does, no matter how calm and understanding you are.
So please, above all, remember this…yes, it certainly is okay to place your baby in a safe place, walk away and regroup when you're in the midst of an intense crying jag. It doesn't mean you love your baby any less. You are not damaging your baby. Take a few moments for yourself and come back to your beautiful little sensitive soul with a full tank of love and patience.
April is National Child Abuse Prevention Month. In efforts to increase awareness about crying in babies and reduce the incidence of shaken baby syndrome, The Period of PURPLE has launched a Click for Babies campaign.
Spread the word. Support a new mom.
Pin It