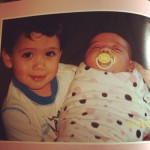 When Natalie from Mommy of a Monster & Twins asked me to share a mommy moment with her and her readers, I immediately knew what I was going to write about. I just didn't know how I was going to do it.
It's something I haven't written about yet, as recalling that moment still hurts my heart.
But I know now it was a necessary part of growing…for all of us.
So, I sat down and wrote about that moment, when my heart was breaking, growing, and filling with more love…all at once.
It's the story of how we transition from baby #1 to baby #2.
I would love it if you would stop by Natalie's place and read Growing Pains of the Heart. Here's a little preview…
He was so sad.
His two year old self, completely engulfed by the grief, the confusion…the sadness.
I, as a new mom of two, was just barely surviving.
Exhausted. Completely swallowed by it.
I did not see him.
All I could see was a newborn who needed me.
Breastfeeding, pumping, preparing bottles, diaper changes, and sleeping in 3 hour increments….why couldn't my two year old, newly crowned Big Brother see that?
…click here to continue reading Growing Pains of the Heart
*P.S. Look at Big Brother and Little Sister in that photo from those early days. Yes, we all went through some growing pains, and we're all better and have more love to go around for it.*
How did the transition from baby#1 to baby#2 go for you?
Pin It