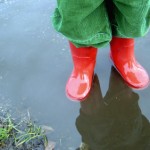 This week has been funky. And not in a good way.
I blame the time change, but then I think it's more than that.
We're busy. The mornings are rushed. Afternoons crammed. Dinnertime haphazard. Bedtime a struggle.
It's a parenting funk.
I miss my kids.
We're a bit disconnected and this leaves us all feeling a bit frustrated, sad, and discontent.
It's probably why I tend to linger at bedtime and acquiesce to their pleas for more snuggles, more books…until I ultimately fall asleep right alongside them.
This balancing act we do…between our kids, our spouses, our work, and our passions? Not easy, is it?
The one thing I don't want to ever take for granted…time with my kids.
And yet every single day, I find myself saying…not right now, I need to work/make dinner/clean up.
I worry one day they'll stop asking for me…and then what?
I'll regret. I'll regret the time I poured over my writing, the time spent at my computer, the time spent cleaning when all they wanted was time with me.
That's the funk I'm in.
I read this today. It was exactly what I needed to read. To know there were simple things I could do on a daily basis to increase that connection to my kids. To make us all feel better. Feel loved. Feel heard. Feel seen.
Even when the minutes in the day seem scarce.
So, this is what I'm going to do…
I'm going to hug Big Brother and Little Sister every chance I get. Everyday. Multiple times a day.
I'm going to pause before snapping back with impatience, and instead listen and see my children.
I'm going to ignore the household clutter, the dirty floors, and dishes in the sink…at least long enough to engage in a round of Lego building with Big Brother and craft time with Little Sister.
Because this is life. It's busy. It's chaotic. And I don't get a do-over.
Time to shake off this funk and get back on track.
Plus? Look at these Shamrock Shakes! We are definitely making these today…and I'm saying good-bye to this parenting funk and hello to a fun, family weekend.
We need it.
What do you do when you get into a parenting funk? Any fun plans for the weekend? Are you going to make a Shamrock Shake?
Pin It