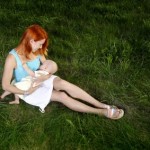 Or, rather, the inability to truly breastfeed broke my heart.
"You have insufficient glandular tissue."  These words were spoken to me by my lactation consultant after what seemed like hours as she poked and prodded my breasts. I was three weeks in to being a new mom and was an emotional wreck.  Breastfeeding was going horribly. I was hardly producing any milk and despite all my attempts, I just couldn't figure out why.
So, when she uttered those words I must have let out a nervous laugh or something because she placed her hand on my shoulder, looked me straight in the eyes and said it again…then…"it's not your fault".  Well she opened up a flood gate of tears and I think they were tears of relief.  Really? So…I'm not some crazy, inept new mom doing everything wrong?
Insufficient Glandular Tissue
I'd been doing everything in my power to breastfeed. And when I say everything, I mean it. I did it all…supplements, tubes taped to my breast while my son nursed, pumping like a crazy woman…still, never did I get that sensation of fullness or that my milk was coming in.  Never.
Insufficient Glandular Tissue
Back at home, scrutinizing my breasts in the mirror, I could see now what she was talking about.  All the signs were there. The shape of my breasts, no change in my breasts during pregnancy, no milk coming in after giving birth. I wasn't crazy. It wasn't my fault.
Insufficient Glandular Tissue
I continued to study my breasts, looking at them in a whole new light. They had betrayed me. Not functional, just there. Me, trying desperately to make them do what they should do. What all women should be able to do.  I looked at them. I hated them. They broke my heart.
Insufficient Glandular Tissue
Still, I did all I could to coax that milk out.  At the height of my breastfeeding experience I got a whopping 2 ounces! This was after 3 months of non stop nursing and pumping.  And those 2 ounces…I treated it like gold and dutifully saved it for my son's next feeding. I would mix it with formula, which somehow, lessened the pain of giving it to him.  Problem is those two ounces would only happen 2-3 times per day.
Insufficient Glandular Tissue
I remember being embarrassed, ashamed that I couldn't nurse my son.  Every fiber in my being wanted it so badly. I longed for those quiet nursing sessions. The peaceful sound of swallowing, of satisfied murmurs. It never happened.
Insufficient Glandular Tissue
It's embarrassing to admit, to talk about…but, it's exactly what I have.  I spent months trying to force these dysfunctional breasts in to production. The time, the effort put in…all for a measly ounce or two. And yet, I kept at it because I'm a woman, a mother…I should be able to breastfeed.
Insufficient Glandular Tissue
Please don't judge me. You don't know. If you've never experienced this, how can you possibly know? Still, there will be those who will quietly think…she gave up, she didn't really try everything.  I did…believe me, I did.
Insufficient Glandular Tissue
I hated feeding my baby in public.  I never could just sit down, cover up and nurse.  I envied those mothers. I wanted to be that mother. I stayed home. Nursed for 20 minutes, then pumped while giving him his real meal…the bottle of formula.  Our nursing sessions were just the appetizer.
Insufficient Glandular Tissue
Please don't stare at me as I reach for that bottle, feed my baby and think…I can't believe she doesn't breastfeed her baby. Please don't go all Gisele on me. You don't know.
The blow to my self-esteem as a mother, as a woman. It still hurts.
I remember our last pseudo-nursing session. My son was 5 months old and I knew what supply I had , had pretty much dwindled to almost nothing. We were quietly playing, I picked him up to give him some cuddles.  He turned in, like he wanted to nurse…which filled my heart with so much joy.
He still loved it…the tiny amounts he did get, the bonding.  For a moment, I pretended I was one of those moms. The ones with ample breast milk. I brought my baby close and nursed him. It lasted all but about 5 minutes and I could physically feel him draining those last drops of gold.
He let out a sigh of contentment. He didn't fuss, wasn't frantically searching for more. It was like he knew. Tears were streaming down my face. It was over. We both sat there for a few moments. Mother and baby cuddled together…happy.
Soon, the hunger set in…my baby started to fuss but I was at peace as I went to make him a bottle. Looking at my angel boy, I finally saw my body in a whole new light. I am a Woman, a Mother.
A Mother whose body created and nourished this beautiful boy for 9 months.  I am a mother who went through 16 hours of labor and delivered this 8 pound 4 ounce healthy baby.  A mother who in spite of Insufficient Glandular Tissue (IGT) continues to nourish, love, and adore this baby I have been blessed with.
And with that knowledge, that realization…I try to stop beating myself up over IGT.  I stop focusing on what my body could not do for my children and focus on everything it could and can do. And, with each passing day, that part of my heart that has been broken is mended…one little hug/kiss/laugh/cry at a time.
*Originally posted August 5, 2010*
This is my breastfeeding story, what is yours? Did you struggle with breastfeeding? If so, you were able to overcome those struggles?
Pin It