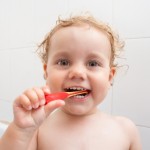 Taking care of those precious baby teeth matters.
Aren't they going to lose them anyway?
Well, yes they will. No matter how hard we try, the tooth fairy will manage to snatch those prized baby teeth. However, the health of those first teeth is important in the long term health of our children's "big kid" teeth. Dental decay now can lead to future dental problems later.
So, here are 5 quick and easy tips for keeping those baby teeth in tip top shape:
1. Start early. Right around 4-5 months, start getting into the habit of washing your baby's gums gently with a wet washcloth twice a day. This will establish a good oral hygiene routine well before that first milestone tooth has sprouted.
2. Never put your baby to bed with a bottle. Sugars from milk will coat your little one's teeth during the night and leave him at high risk for cavities, aka baby bottle caries. If a bottle of milk coaxes your baby to dreamland; feed him then gently wash/brush his gums and teeth before putting him to bed.
3. Find a pediatric dentist for your child, preferably by the age of 1. This will get your child accustomed to having her teeth checked and cleaned.
4. Start using a fluoridated toothpaste when your child is around 3 years old and can spit (not swallow) after brushing. Check the American Academy of Pediatric Dentistry website for the most recent recommendations on fluoride.
5. Halloween bonus tip for those semi big kids with a mix of baby and big kid teeth: moderate consumption of all that sugar. Ration a week's supply and donate the rest. Brush before and after eating those sugary treats if possible.
For more tips on keeping those sugar bugs at bay during Halloween and throughout your child's life, please follow me over to today's Dr.Mom Column in The Sac Bee.