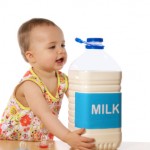 It's Friday afternoon, encroaching on the evening here, so I'll keep this short and sweet.
I get this question a lot in clinic: how should I switch my baby from formula to whole milk?
The first birthday for your baby is a monumental milestone indeed. Along with all she has accomplished in the first year, there seems to be so many changes in her diet.
One of the more exciting dietary changes for many parents is being able to say good-bye to formula and hello to whole milk. Granted, some (though not many in my experience) will transition fairly easy from formula to whole milk without having to do a thing, most will take some coaxing (aka gradual weaning).
This makes sense to me considering the taste of formula and whole milk is vastly different. In addition, some parents decide that this is a good time to be done with the bottle too and one day just hand their newly crowned one year old a sippy cup full of whole milk. It comes as no surprise that this scenario may be met with more than just a little opposition.
So…what to do?
Here's my tip for the easiest transition from formula to whole milk:
At or after her first birthday, start mixing formula with whole milk. For instance if she is taking a 6 ounce bottle of formula, mix 5 ounces of formula with 1 ounce of whole milk. This will be her "milk" for that day. The next day, mix 4 ounces of formula with 2 ounces of milk. Each day continue increasing the amount of whole milk by one ounce and decrease the amount of formula by one ounce. Continue on in this way until she is completely on whole milk. By the sixth day, she is drinking whole milk, without so much as a whimper or sour face.
This worked like a charm for both my children and many babies in my clinic. I would wait to transition her off the bottle for milk time until she is accustomed to whole milk which should now happen fairly quickly. By the way, you can apply this same technique to breastmilk fed babies. However, in breastfed babies, I find the situation is much different and deserves its own post. Many breastfed babies will go straight from breastfeeding to drinking whole milk out of a sippy cup. Of course the process and scenarios differ greatly here. Feel free to let us know about your experiences in the comments.
Okay, now that you know how to get your adorable one year to take whole milk with a smile…how do you get her off that bottle? Don't worry, you have time and I promise to blog about this topic next week: bottle weaning…when, why, and how.
If your baby was on formula, how did he/she do with the transition to whole milk?If you exclusively breastfed, did your baby have trouble accepting whole milk?
**Disclaimer: This is just one tactic (of a few) to try with your child. As with most parenting issues, knowing your child's temperament and your parenting style will help you decide which direction to take. For instance, some children may easily go straight to whole milk without needing a gradual wean. Furthermore, some will even go straight to a sippy cup! Find what works for your child, and go with it. Would love to hear what tips you have on this subject. **