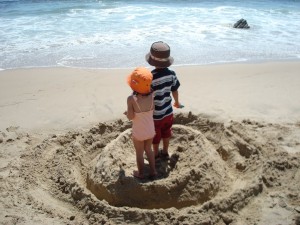 There are no guarantees in parenting, are there?
As I reflect on my most recent post, tears swiftly come to the surface. I'm still filled with self doubt, guilt, and worry about how I reacted to my darling boy's honest admissions.
Tiny infractions by my six year old that filled me with so many conflicting emotions.
I often wonder in situations like these if I'm too harsh, too lenient, too something. I worry that I haven't got it quite right. Worse yet, I don't think I'll ever have that answer. It's this uncertainty in parenting that is truly hard to swallow.
I guess this was the moment I realized that our (me and my husband) window of opportunity to impress upon him the values we consider important, is a relatively small window and it may not be open forever.
So I feel the pressure…to get it "right".
However, it's summer, and amid my self-doubt and uncertainty, I'm making a promise to myself to savor this summer.
This is the summer of Little Sister being three. The summer she hopes to spot a rainbow butterfly, search for seashells, and make endless sandcastles.
It's the summer of Big Brother being six. He has the first year of kindergarten behind him and already refers to himself as a first grader. He anticipates our family vacation with contagious excitement. He wants to jump waves that crash on the shore, take a train to Colorado, and try his hand at fishing.
So while I may never know if I'm getting this parenting gig right, at least I'll have this summer to look back on and know, at the very least, that I got some moments right.
What do you hope to savor this summer? Do you feel as uncertain as me at times in this parenting adventure?