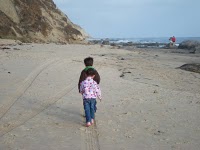 1. It takes two days to fully give in to vacation mode, so plan accordingly. This is how long it takes to deprogram yourself from the schedule and rules that seem so important when you're at home.
2. Then, it will take two full weeks to "un-vacation" yourself. Hence, the suitcases remain half packed and home cooked dinners seem highly overrated.
3. The whining and fighting that takes place over whose turn it is to press the elevator button…well, that's just part of vacation with kids. Get used to it.
4. At times you may wish your family vacation was actually a quiet getaway for two. Then…well, your kids do or say something incredibly heartwarming, like "this is the best day ever!". This seems to make up for not sipping bottomless tropical drinks while relaxing on the beach. Instead, you're drinking juice boxes, munching on sand covered sandwiches, building sandcastles, and digging the "biggest hole ever".
And, for the most part, you wouldn't trade those moments for anything.
5. Just when you think you have absolutely run your kids ragged after a day at the beach, they will wake up the next morning with just as much, if not more, energy as before. Meanwhile, you and the hubs feel like you've been hit by a mack truck and can barely peel yourselves out of bed.
6. Ice cream always tastes better on vacation. Wine does too for that matter.
7. No matter what you do or where you go for vacation, it's the small moments that linger and stay with you. Moments like eating dinner with the kids after dark, with waves crashing in the background and your table lit up by a lantern. Moments spent "saving" your children from the approaching waves and basking in their squeals of delight. Or, unexpected moments, like breakfast at midnight in a random restaurant along the long road back to home.
8. You could have had the most wonderful, most relaxing, and most incredible vacation ever and still…nothing will feel sweeter than laying your head on your own pillow, in your own bed, once you finally get home.
We're back from a wonderful, albeit exhausting vacation! What are your truths about vacation and kids?