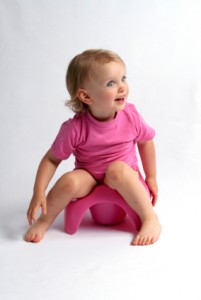 You know how the rest of the saying goes don't you?
You can lead a child to the potty, but you can't make her pee.
This is essentially my philosophy on potty training and highlights what I believe our role is as parents when potty training is concerned. Ultimately, the decision is up to our children. What we can do is be their ever gentle guide and personal cheerleader.
So, when I received a recent e-mail from one of my readers regarding potty training, I was more than happy to share some potty training tidbits.
Her daughter is two years old and has shown some interest in using the toilet. She dislikes being wet and is able to let her mom know when she has poop or pee. Mom wants to know how to go about potty training and if there are any techniques she should be employing.
I generally shy away from any one "technique" or "how to" guide when it comes to potty training. The reason is, I feel that readiness is key and tailoring your approach to you child's unique personality and temperament will garner the most success and the least frustration.
It sounds like her daughter is starting to display some of the readiness signs, so let's talk about what it means to be "ready" for potty training.
Signs that your child may be ready to use the potty:
Your child likes to mimic you and has started showing interest in using the potty.
Your child can help dress and undress herself. This is key when you have a fiercely independent 2.5 year old who wants to "do it myself".
Your child can tell you when she has to go pee and poop.
Your child has started staying dry for long periods of time. It's a great sign if your child consistently stays dry during nap time.
Your child takes pride in her independence and thinks Dora underwear is the greatest thing ever!
Your child is starting to pass the "no" phase and is more amenable to "yes, I do want to use the potty!"
Generally, children start displaying these readiness signs between the ages of 2 and 3. However, every child is different. Release yourself from thinking there is a magic number for potty training. There isn't. Even though a study done in 2009 found that the months of golden opportunity seem to lie between 27-32 months of age, I have to say, if your child isn't displaying any readiness signs…well you'll just be banging your head against the wall.
Wait until your child is ready…really. My daughter was ready by age 2.5 and my son at 3.5. Both achieved potty training success within one week because they were simply ready.
Okay, so now your child is ready…here are some tips for the process:
Take frequent and consistent potty breaks.
Find the right potty for your child. Some children like the seat that sits on top of the regular toilet, some do better with their own little potty.
Keep it low pressure. Celebrate success and never punish accidents.
Let your child run around sans diaper or underwear. This allows them to stay in tune to their bladder signals. Expect some dribbles.
Remember that success does not happen overnight. Also, nighttime dryness typically takes longer to achieve.
Some children remain hesitant to poop in the potty. Don't make it a big issue. Let her have that pull up for poop time. It won't last forever. Reward charts work great in this situation. Just remember to take it one step at a time.
Okay, so you're about to embark on this potty training journey with your child. Let her lead the way. If frustration starts to build, don't be afraid to take a break and come back to it in a couple of weeks. Just remember to keep the big picture in mind. Your toddler won't be donning diapers forever. Keep it light, fun, and celebrate her success.
Did you or are you facing any potty training obstacles with your child? What worked or what questions do you have regarding potty training?
**Submit your parenting or health related question to mommamd4two(at)aol(dot)com. I feature a question or topic every Wednesday. If you don't have a question, but have a topic you'd like to see me cover, please e-mail me or leave a comment. **