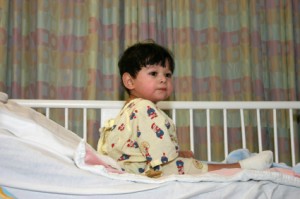 For today's
Ask Dr.Mom
, I'll be sharing important information with you regarding Kawasaki Disease. Recently, our friend's son was diagnosed with this febrile illness. Luckily, he was diagnosed in a timely manner and received the appropriate treatment to prevent potentially life threatening consequences.
His parents will be running a half marathon this coming June to raise money and awareness about this disease.
Though uncommon, Kawasaki Disease is an important disease process to know about since timely diagnosis and treatment are key to preventing potentially deleterious effects on the heart.
What is Kawasaki Disease?
Kawasaki Disease is a febrile illness of unknown etiology.
It is believed to be triggered by a viral infection and is most common in the winter and spring months.
KD is the leading cause of heart disease in children, aside from congenital heart defects.
Children ages 1-8 are most commonly affected, with 80% of children diagnosed with KD being under the age of 5.
Though  more common in children of Japanese descent, children of all racial groups can be affected.
What are the signs and symptoms of Kawasaki Disease?
High fever (usually 102 F or higher) that lasts 5 days or longer. Fever is universal to all children presenting with KD.

Redness of the eyes in absence of eye discharge.
Redness and inflammation of the mouth and throat. Will often see red, cracked lips and a "strawberry" looking tongue.
Body rash. This is a generalized, non-blistering rash usually most prominent on the

trunk and groin area.

Swollen, red, and painful hands and feet. This is usually followed by peeling of the skin.
Enlarged lymph nodes in the neck. Typically only one side of the neck is affected.
*At least 4 of the 5 signs listed above are required for diagnosis. However, there are atypical cases and no two children will present the same. Always contact your child's doctor for evaluation in presence of the above signs and symptoms.*
Other symptoms include extreme irritability, stomach ache, diarrhea, and/or vomiting.
Why should I worry about Kawasaki Disease?
KD is important to know about and treat because if left untreated, 20% of children will develop abnormalities of their coronary arteries. Aneurysms could form and can be life threatening.
Diagnosis and Treatment of Kawasaki Disease
There is no specific test for Kawasaki Disease.
Diagnosis is based on the constellation of clinical and physical findings. This is why it's so important to contact your child's doctor should he present with any of the symptoms listed above.
Treatment consists of in hospital administration of intravenous immunoglobulin (IVIG) and aspirin. If started within 10 days of disease onset, this greatly reduces the risk of permanent heart damage.
As with most things, education and awareness is key. If you're ever concerned about your child, never hesitate to ask your child's doctor. That is what we are here for.
Have you heard about Kawasaki Disease? Do you know a child affected by it?