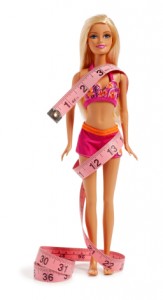 It was not long ago that I stood,
confused
, in the toy aisle of Target searching for a doll for my three year old daughter. I considered Barbie, then after 20 minutes of considering the potential ramifications of a toy on my daughter's self-esteem, I thought better of it.
I left Barbie on the shelf. In all her make-up, inappropriate clothing, and wholly unrealistic body proportioned glory.
Even though I didn't choose her that day, I do realize that Barbie is just a toy. A toy. Not real. I understand that and honestly, at age three, my daughter can make that distinction too. Certainly, a Barbie in her hand is not going to make or break her self-esteem.
However, on that day and even now, it is more about what Barbie represents. She is merely one of many symbols that signify a culture bent on propelling our daughters into adolescence much too early. Take the recent Abercrombie and Fitch debacle. Was I appalled that they would market a push up bikini to seven year olds? Yes, but not at all surprised.
Barbie, inappropriate clothing marketed to prepubescent girls, and media glamorizing perfectly toned bodies clad in barely there clothing has been around for decades. This is nothing new. I am simply more aware of it now that I have a daughter of my own.
I question these messages, gimmicks, and toys now. I believe I have to. I'm not saying my daughter will never have a Barbie. I've learned early on in my parenting that the cliche never say never rings ever so true. I also know that self-righteousness about these issues is bound to blow up in our faces.
It's one of the many struggles of parenthood.
Awareness matters. Tempering these messages that our daughters receive on a daily basis with our own message matters. At three, the most profound influence on my daughter regarding beauty and body image is me.
Me.
I am now realizing I cannot take this lightly.
What I say, do, and how I treat and regard my body matter more now than ever. I have three year old eyes watching me and she picks up on everything. Even as I dress in the morning and linger a little in the full length mirror in front of me, frowning and poking at my stubborn muffin top. She sees it. She notices even the tiniest of nuances.
With so many avenues of influence coming at my daughter, it is up to me to counter and moderate some of the unhealthy messages sent her way.
All I can hope and strive for is that my daughter will enter those tenuous teen years with a healthy dose of self-esteem and a concept of beauty that is based on the strength of her body and the kindness she exudes simply by smiling.
Barbie or no Barbie seems inconsequential to me when I consider this big picture, for the beauty of Barbie is only plastic deep.
What is your take on Barbie, the media, and marketing to our girls?