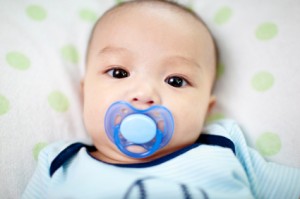 Oh the pacifier. As parents, we seem to have a love/hate relationship with the silicone soother. At the start of my parenting journey, I was not a fan. But then…I gave in and popped one into my newborn son's mouth. And you know what? It worked.
I still harbored some negative feelings about that plastic thing in his mouth and was judicious about relegating it to nap and bedtime only. That blue plastic paci was just the thing he needed for naps and bedtime. I started to soften and didn't mind it so much.
Enter child number two and I was much more amenable to the idea of the paci. In fact, I already had two pink pacis waiting for her before she even made her grand entrance!
I've got quite the paci lover now and to tell you the truth, I'm quite fond of it myself. However, the time is drawing near for both of us to say good-bye to our beloved paci.
So, how do you know? When, why, and how should we wean our tots from the paci?
Granted there are no hard and fast rules, such is parenting. There are sound recommendations though, and they are worth knowing so that you can make the best possible decision for your own child.
Let's start with the why…Why should I wean my child off his beloved paci?
If your child is prone to recurrent ear infections, the pacifier could be one of the culprits. In these cases, I do strongly recommend paci weaning, regardless of your child's age.
Your child is over the age of two and you have noticed speech impairment. Vigorous and persistent pacifier use can interfere with speech development.
Your child is showing you signs that she is ready. Chewing on the pacifier and spitting it out shortly after popping it in could be signs she is ready to break her binky habit. When my son was two, he bit holes in his paci. I told him they were broken now and we had to throw them away. He did it himself and has never looked back.
Your child is over the age of 4 and starting to lose her baby teeth. Persistent paci use beyond this age can certainly lead to permanent tooth and jaw misalignment.
This leads us to the when…When should I start the weaning process?
Ideally, your toddler will have kicked the paci to the curb by age two. I say ideally, because we all know how that goes.
After the age of two, children really start to form a strong attachment to the paci. Ahem, I know this all too well.
If your child is still enamored by her paci at the age of 4, it really is time to step in and help her find ways to break her pacifier habit.
Once you've decided the days of the binky have come to an end, how exactly are you going to do it?
How should I wean my child from the pacifier?
The route you decide to take will depend on both the age and temperament of your child.
Some choose to go cold turkey. I think this works better for babies and toddlers less than two years old. It also depends on how committed your baby or toddler is to the paci. Some seem to forget about it right away…others? Not so much.
Discuss saying good-bye to the binky with your child. Children two and older can certainly understand being a "big boy" and that the time is coming. Involve him in the process. Come up with a plan together.
Start by restricting pacifier use to nap and bedtimes before getting rid of it altogether. I think this is a great way to start weaning an avid pacifier addict.
Choose a night that the pacifier fairy will make a visit. Help your child write a note to the fairy, gather up all her binkies, and leave them for the fairy. She will be gifted with a sweet surprise in exchange for being such a big girl.
Have her "pay" for a special toy or book with her pacifiers.
Is it close to Christmas time? Have her leave them for Santa, and she will receive a special gift in return. You can tell her Santa will be bringing them to babies who need them.
Read books to her about growing up and letting go of the pacifier.
Whatever strategy you choose, keep in mind that your child is letting go of a bona fide symbol of comfort. Be gentle but consistent. Involve her in the process. Let her have her say. Congratulate her for being such a big girl. While you're at it, congratulate yourself too…for saying good-bye to a piece of her babyhood.
I know I will likely shed a tear or two.
What tips do you have for pacifier weaning? When did your child say good-bye to his beloved paci?
**Do you have a parenting or child health related question? If so, e-mail me at mommamd4two(at)aol(dot)com so I can answer and feature it on my Wednesday Ask Dr.Mom series.**
Pin It