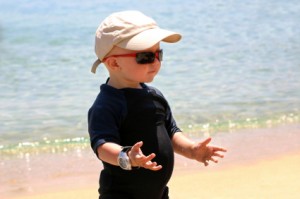 With spring in full swing and summer well on its way, we are all headed for the outdoors. It's wonderful. Our extended outdoor adventures mean more time in the sun, so inevitably, the sunblock comes out and we start slathering it on.
I get many questions from parents regarding sunscreen, most of these questions have to do with safety. Sunscreens have long been touted as a major prevention against skin cancer. However, in recent years, chemicals found in sunscreens have raised questions about how safe they really are for our children.
With that in mind, today I will share with you some very important sunscreen safety tips so that you can protect your children without the added worry that you may be causing harm.
What you DO want in a sunscreen:
A broad-spectrum sunscreen that protects against both UVA and UVB rays.
PABA free and preferably fragrance free
An SPF of at least 15, though I would recommend SPF 30 or 45. Anything above SPF 45 is essentially overkill and does not mean you can stay out in the sun longer.
Look for sunscreens containing zinc oxide or titanium dioxide. These are physical versus chemical sun protectors. Sure they may leave a white residue on your child's skin and don't blend in as easily, however, they are free from some chemicals called into question lately (see below).
What you DON'T want in a sunscreen:
You don't want sunscreens containing retinyl palmitate (a vitamin A derivative) or oxybenzone (an estrogen like chemical). These are the chemicals found in many popular sunscreens and have been called into question regarding safety in recent years.
You don't want a sunscreen that has expired. Sunscreen has a shelf life of three years. After that, it starts losing its efficacy. Toss all expired products.
Sun Safety and Sunscreen Tips:
Keep in mind that sunscreen is just part of the sun protection package. Use clothing, sun protective bathing suits, hats, and sunglasses in addition to sunscreen as part of your sun safety routine.
Apply sunscreen to the exposed areas of skin and reapply every two hours.
For infants less than 6 months, try to avoid direct sunlight. Cover in light clothing and hats, only apply sunscreen to exposed areas.
Apply sunscreen 20-30 minutes prior to heading out.
Remember that UV rays are strongest between the hours of 10am and 4pm. This doesn't mean you have to hide away during those hours, it's not practical. Just be aware and protect that skin.
Above all, don't skip the sunscreen. It still is essential as part of our sun protection package. Hopefully with this information and tips, you can rest assured that you are in fact protecting, and not harming, your child when you lather on the sunblock.
The environmental working group (EWG) has a wonderful web site where you can check out how your sunscreen measures up. It's also a great place to start if you're deciding on a safe sunscreen for you and your children.
Have you ever worried about sunscreen? How did you finally decide on a product?

*Every Wednesday I will be answering a question from You! Please submit your parenting or health related question to mommamd4two(at)aol(dot)com. I'm looking forward to hearing from you and featuring your question. *