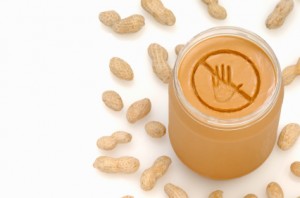 As I sent my son off to kindergarten this morning, I thought, I
hope he has a good day
. I
hope he listens well and that he has fun with his friends.
I did not think…I hope no one accidentally brings peanuts into school, and god forbid…he goes into anaphylactic shock. I hope he doesn't die today.
That thought would be paralyzing to me. No, I am not being overly dramatic here. This is a reality for many parents. I can only imagine the agonizing thoughts in a mother's head who has a child with severe peanut allergy.
So, you can imagine my surprise and disdain when I heard about these parents from a Florida elementary school who were protesting the safety precautions this school has in place for a child with severe peanut allergy.
We are talking about a 6 year old girl, in first grade. A child who could potentially die if exposed to even a trace amount of peanut. A child who in my opinion, has a "hidden disability". A child who should feel safe in school and be given the same opportunity to learn inside a classroom along with her friends.
The school is doing the right thing. The parents protesting? They are not. For me, the very basic question, what if it were your child?, plays over and over in my head. Where is the empathy, the compassion? And, what are they teaching their own children about friendship, about helping others, about empathy?
It saddens me to see this child and others like her singled out. She already has to sit at a separate table for lunches, must avoid special birthday treats during celebrations, and must already know the dire consequences of eating the wrong food at such a tender age.
I know of many parents who felt the only safe option was pulling their child out of school and home schooling them. Not only because they feared a deadly allergic reaction, they've also had to deal with their child being bullied. Bullied simply because they have a food allergy.
In my opinion, those parents protesting are partaking in a from of bullying. It is so disheartening.
The very least we (pediatricians, parents, schools, and teachers) can do is take simple precautionary measures. Measures such as hand washing, not bringing peanut products into the classroom, and having a food allergy action plan in place.
Most of all, we can show some compassion, and by doing so…we are teaching it as well.
What has been your experience with food allergies and school?