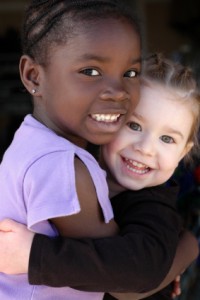 When someone asks me (usually, it's my husband) what I wish for our children, my usual and honest answer is,
I just want them to be happy and healthy
.
Simple, true and it really is what I want for them.
Then, I read this article on The Motherlode, an excellent New York Times parenting blog, and it really struck a chord with me. I have been thinking about this and ruminating over it ever since I read it last week. What the author, Dr.Richard Weissbourd, asserts is that we need to switch our focus in child rearing. Instead of zoning in on our children's happiness and self-esteem, we need to actively instill morality and kindness.
At first glance, I thought well yeah, of course I want my children to have morals and to treat others with kindness. But, then I thought…do I actively promote and support these behaviors and qualities in my children?
I have to admit, I focus a lot on their happiness and self-esteem. I try to bolster them up and cheer them on. By doing so, am I undermining the development of their sense of morality and ability to empathize and care about others?
As many other parents may feel, I thought that happiness and high self-esteem would naturally beget kindness towards others.
Does it?
It's a question I have been asking myself all week. There are so many parenting theories, studies, and speculations out there that question almost every aspect parenting. However, this one dug deep and resonated with me.
Being kind to others is certainly something I expect from my children. This article however got me thinking if I actually cultivate this. As the author puts it, "The degree to which parents and children are prioritizing happiness over goodness is troubling".
In a world that does seem like we put our happiness above all else, I believe he has a valid and important point.
I certainly don't want to dismiss small acts of inconsideration and send my children the wrong message. No  matter how seemingly inconsequential, our children pick up on these small cues. On the other hand, I've always believed that parenting is a process, something we cannot isolate into one moment in time. It really boils down to balance and moderation.
I know, easily said…not always so easily done.
However, now when my husband asks me what I hope for our children, my answer may be a little different. Yes, I want them to be happy, but above all, I want them to be kind and treat others with respect and empathy.
I hope I can achieve this subtle shift in thinking and parenting. In my opinion, it is certainly worth a try.
What do you think? Do you think we focus too much on ensuring that our children are happy? Should we instead focus on kindness and empathy? Can't we do both?