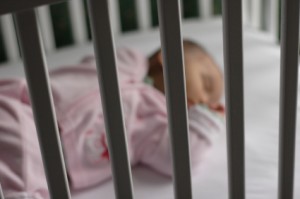 Over the past couple of clinic days, I have had quite a few parents ask me when they should take their bumper pads off their baby's crib.
My immediate reply? Now.
Honestly, I had no idea that bumper pads were still so widely used. I know they sell them as part of adorable crib bedding ensembles. I recall having the most beautiful pink Hawaiian inspired bumper pad to match my daughter's room decor. It was so huge and cumbersome. After painstakingly tying it to the crib slats, I just as soon ripped it off. It looked like pillows surrounding her sleeping area. Surely, that was not safe.
The reality is, all you need and should have in your baby's crib is a firm mattress and a tight fitting sheet.
Boring, I know, but essential for your baby's safety. Bumper pads con pose a significant suffocation risk to babies. This article in the Chicago Tribune highlights some tragic stories related to crib bumper pads.
The risk is just not worth it.
So, let's talk about the essentials of crib safety. Think of the three B's: Bare, Boring, and no Bumper pads.
Don't worry your baby will add enough beauty and personality to more than make up for the lack of color coordinated crib bedding.
Here are the Essentials of Crib Safety:
Make sure your crib is JPMA certified.
The crib slats should be no more than 2 -3/8 inches apart.
Do not use a drop side crib. These have received a lot of media attention recently due to injuries and deaths over the last decade. There will be a official ban on these in June 2011.
Check this website to make sure your crib has not been recalled.
Make sure your crib has a tight fitting and firm mattress.
Use a tight fitting crib sheet.
Do not use bumper pads. Don't worry about your little one bumping his head against the crib sides. If he does, the minor head "bumping" would be mild in comparison to the real risk of suffocation.
Your baby's crib should not have any extra blankets, pillows, stuffed animals, or toys that could pose a strangulation or suffocation risk.
Do not use sleep positioners
Always place your baby to sleep on her back.
Sleep sacks are a great way to keep your baby warm at night without adding the risk of suffocation due to a loose blanket in the crib.
Remember, when it comes to your baby and sleep, safety is paramount.
Did you know about the dangers of bumper pads? What questions do you have about SIDS and crib safety?
Resources:
Complete list of crib safety: Healthy Children
CPSC ban on drop side cribs
AAP Sleep Safety Guidelines
*Every Wednesday I will be answering a question from You! Please submit your parenting or health related question to mommamd4two(at)aol(dot)com. I'm looking forward to hearing from you and featuring your question. *