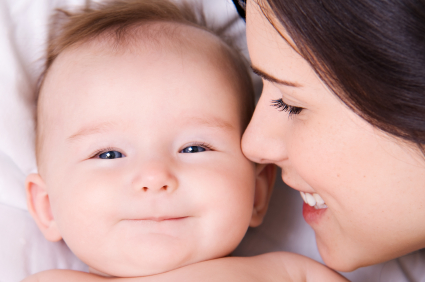 I don't think there is anything more amazing, more magical, or more awe inspiring than holding your baby for the first time. The moment you meet that incredible, beautiful baby that you've been carrying and nurturing inside your body for the past nine months…that moment is nothing short of breathtaking.
But, what happens when the euphoria you expected to feel is nothing more than a sigh of relief? What if you expected an overwhelming flood of emotions, but instead, you just feel…tired? I suspect this happens more often than we'd like to admit.
Most likely, we feel guilty for the absence of those fireworks and probably wonder, what's wrong with me?
I found myself in this conflicted state of emotion at the time of my daughter's birth. I had great expectations that the moment I laid eyes on her, those nine months of waiting to see my beautiful girl would culminate in a flood of emotions. Instead, it was quiet and surreal.
Of course I knew I loved her. I was holding my baby, my heart, right there in my arms. My love for her was clear and unwavering, but I did wonder where that lightening flash of emotion was. It's something that left me feeling a little deflated. It left me feeling like a bad mother. I worried about it. It made me question my mothering abilities and whether or not our bond would be strong.
Then, I started looking at it from a scientific and physiologic point of view. Oxytocin, which is known as the love hormone, is produced during pregnancy and surges during labor and delivery. This hormone, no doubt contributes to that euphoria and overwhelming sense of love we feel at the time of childbirth. Unfortunately, epidurals can decrease the production of oxytocin at the time of delivery. I had an epidural and it worked good.
Now, this is not a post for or against epidurals. It is merely an observation and something I believe contributed to my lackluster emotions right after delivery. Sure, I was pain free and completely grateful for that at the time. However, I was also lacking some of that love hormone surge.
Additionally, pain during childbirth releases all those natural endorphins that really does culminate in a catharsis at the time of birth when you literally see the fruits of your labor. During my daughter's birth, I was having normal conversations in between contractions and pushing. It really was surreal. There was no release of endorphins for me.
I can make sense of it now and realize that my pain free birth inhibited the release of those fireworks we all expect at the time of our child's entrance into the world. I think what made this so much more evident to me was that it was in complete contrast to my first childbirth experience with my son. I felt everything during his delivery…the pain and the euphoria.
This is simply my story, I am not espousing which form of childbirth is best. You must make that decision for yourself. The plus side of my pain free birth? Aside from the obvious, no pain, I had energy and some clarity at the time of her birth. It was nice to have that energy.
Energy I could focus on further strengthening our bond.
I held her…a lot. During those first hours following her birth, we snuggled skin to skin (which increases oxytocin production), I breastfed as much as I could (you can read my struggles with that here), and we spent time together in the wee hours of the night, just her and me; feeding, rocking and cuddling. She was always on my hip or cradled in my arms.
We bonded. I no longer worry about the quietness of her birth. Our bond is evident, strong, and enduring. I love her more than I could ever have imagined.
Our mother-daughter bond was in fact born on that quiet morning of her birth, and the fireworks? Well, from her first smile to her first day of preschool, I'd say my heart has been bursting with them ever since.
__________________________________
The lovely Cheryl from
Mommypants
, asked me to share
my mommypants moment
with her. Please go check out my
post
there today. I write about this moment of my daughter's birth and how the lightening flash of emotion finally presented itself. I can't thank Cheryl enough for her encouragement to share this moment. She is an incredible writer and so helpful and instrumental in helping me to fine tune it.