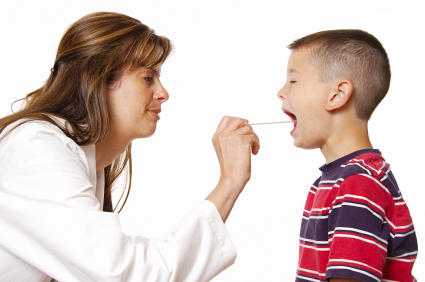 Dear Dr. Mom,
I have a situation with strep that is making me crazy! My 12 year old has had strep at least 12 times in the past 8 months. Each time we treat with antibiotics. We're REALLY good about following the dosing directions. Yet, at least half the time, the first round of antibiotics doesn't clear it up and we have to do it again with another type of antibiotic. We always have his throat swabbed again after the meds are done to be sure we beat it, but within 2-3 weeks, he has it again!
He already had his tonsils taken out – and that was before he'd ever had strep throat. Both his dad and I have had our throats swabbed and we come up clean. I'm concerned that he seems to be taking antibiotics all the time.
—Susan
This does sound very frustrating for you and your son. Twelve infections in that short amount of time does seem extremely excessive especially in light of his tonsillectomy and adherence to antibiotic treatment. With that being said, I do wonder why he keeps getting tested at the end of each antibiotic course. Is this because he remains symptomatic? Meaning, does he have continued sore throat and fever?
The reason I ask is because your son could be a carrier of the bacteria that causes strep throat. The bacteria, known as streptococcus pyogenes (or group A strep), can remain in the oropharynx (throat) of up to 20% of school age children. These "carriers" are often asymptomatic and repeat testing is generally unnecessary. In addition, these children do not need to be treated with additional antibiotics if they remain asymptomatic.
The only children who should be tested again for group A strep following treatment for strep throat are:
Children who continue to have symptoms of strep throat following completion of antibiotic therapy.
Children with a history of rheumatic fever (this is a complication of untreated acute strep throat)
Those children whose household contacts are having recurrent and documented strep throat infections.
In the cases of the children above, they should be treated with a stronger antibiotic should their repeat strep test come back positive.
If your son falls in neither one of those categories (no history of rheumatic fever and no recurrent strep throat among household contacts) and he is asymptomatic at the end of treatment, he does not need to be re-tested for group A strep.
So, how can you know for sure if your son is simply a carrier?
You can ask your son to be tested for strep during a time when he has no symptoms. This may have already been done. If his test was positive during an asymptomatic interval, then he is most likely a carrier.
You can have your son's ASO titers checked. This is a blood test. Typically, ASO titers are high during an acute infection. If his titers are very low, this points to him being a carrier. Keep in mind, this test is not necessary. It can be done if you and your doctor are still unsure of his carrier status.
The problem that group A strep carriers can run into during cold and flu season is that they can often have sore throats that are due to these viruses and not strep. If your son happens to get tested during this time and he is a carrier, he may mistakenly be diagnosed with strep throat and be treated yet again with antibiotics.
In order to distinguish a true strep throat infection versus a viral infection, keep in mind that strep throat usually causes severe sore throat, fever, headache, and sometimes stomach ache and nausea. There is typically the absence of viral and flu symptoms such as runny nose, congestion, cough, and/or body aches and fatigue.
Work closely with your son's doctor. Ask him about the possibility of your child being a carrier of group A strep. If it is determined that your son is a carrier, don't worry. Being a carrier is not a lifelong condition, nor is it a serious one. Carriers are unlikely to spread this bacteria to household contacts and they are not at a higher risk for developing complications associated with strep throat.
The bottom line is this: Stop having your son tested for strep throat if he is not having any symptoms. Realize that being a carrier of group A strep does not mean that he is contagious to those around him. He is only contagious if he is having an acute strep throat infection (fever, sore throat, etc).
I hope this helps you in your quest to solve your son's strep throat dilemma.
Every Wednesday I will be answering a question from You! Please submit your parenting or health related question to mommamd4two(at)aol(dot)com. I'm looking forward to hearing from you and featuring your question.