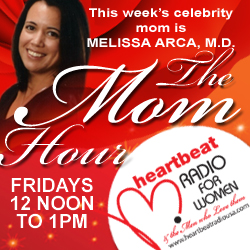 Tomorrow I will be hosting the Mom Hour on Heartbeat Radio for Women. I am so excited to be hosting this hour which starts at 12pm EST (that's 9am PST). We will be discussing infant and child sleep.
Sleep can be so elusive for moms of infants and young children. By understanding the basics of infant sleep cycles, knowing the healthy sleep options (crib, bassinet, co-sleeping), understanding sleep safety, and using the best tool at your disposal, your instinct, sleep will hopefully come easier for you and your child.
I will have the honor and pleasure of having Liz, from a belle, a bean, & a chicago dog as my first guest to share her own sleep stories and discuss a particular method that helped her and her children find peaceful sleep.
My second guest will be the fabulous Dr.Wendy Sue Swanson from Seattle Mama Doc. As a fellow pediatrician and mom, as well as an official spokesperson for the American Academy of Pediatrics, Dr. Swanson will highlight safe sleep practices.
This will no doubt be a well rounded discussion about infant and child sleep. I hope you'll tune in and call in should you have any questions you would like us to answer.
I can't wait!
Call in # 352-728-1410