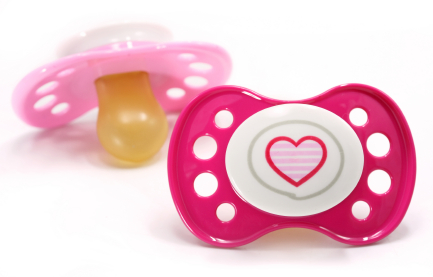 I couldn't help but be drawn to the conversation and buzz this week over adorable Suri Cruise and the photo of her strolling along with pacifier in mouth. I have to be honest and say my first thought was not, oh my god, why is she still using a pacifier? Everyone seems compelled to weigh in on this.
My first thought was, wow, she is a beautiful and stylish little girl. My second thought was, I wonder if she has a pacifier to match every outfit. Then, my third thought? Her and my daughter would be fast friends.
The thing is, I can completely relate. I have my very own little pacifier addict over here. I cannot imagine having the paparazzi clicking away while I try to maneuver my car out of our driveway with Little Sister happily sucking on her paci in the back seat.
I can just see the headline now: Shocker! Dr.Mom's three year old daughter still uses a pacifier! I can only imagine what kind of scrutiny I'd be under. But hey, I'm throwing it out there for you now, no need to send the paparazzi.
I've talked about this before, I'm well aware of the pros and cons of pacifier use. I discuss this with parents all the time. It is well known that the sooner you wean your child from the pacifier, the easier it will be. My son was fine giving it up quite early. My daughter? She's into security objects such as her pacifier, blanket, and stuffed animals.
I know that soon, I'll be calling on the pacifier fairy to visit in the night, whisking away my daughter's beloved pacifiers. In return, my daughter will certainly be gifted with a surprise to hopefully match the heartbreak of giving up a lovey and being a big girl and moving on. Soon…someday soon.
I don't consider myself a renegade pediatrician who feels the rules don't apply to her. Really, I don't. Recommendations for pacifier use are just that, recommendations, and they are sound ones at that. I consider the whole child when deciding what is right for my own. I know them intimately. I know their personalities and what makes them tick.
I  know that my daughter does not have any speech issues, is not prone to ear infections, and has yet to lose those baby teeth and start sprouting the permanent ones. I know we have time. She does not walk around all day with it in her mouth. It is simply one of her soothers.
So, I am not rushing it.
I am finally strong and confident in my mommy skin. Sure, I struggle with these parenting decisions on a daily basis. I weigh the pros and cons over and over in my head. However, at the end of the day, I ask myself this: is my daughter's pacifier use interfering with her life or causing harm in any way?
Today, the answer is no.
Parenting is a process and each child comes with their own set of timelines that don't always align with expert opinion. As opposed to safety issues, parenting decisions such as these are not always black and white. I like to give parents more credit than just assuming they are afraid to take it away.
I'm not afraid to take my daughter's paci away, I just don't feel the urgency to do so right now. I know I'm going to blink and her paci days will be all but a fond memory of her childhood.
Who knows, perhaps Tom and Katie feel the same way. Besides, as I said, parenting is a process and cannot be defined by one snapshot in time.