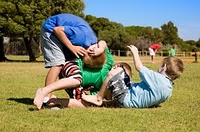 This is more of a question than a statement. As mother to a newly crowned six year old, this popular refrain weighs heavily on my mind. I had never given the notion that "boys will be boys" much credence. It's a sentiment I'd often hear from parents observing their own boys pushing or shoving each other. At the time, my three year old son was still enveloped within my protective circle and I just didn't get it.
Over the next three years, I've watched my son transform from a sweet, active toddler to my very own rambunctious boy who seems to enjoy physically aggressive play with his friends.
The active part I completely understand. He has always been active. So active, that at 18 months old, my husband and I would instruct him to run laps around our ottoman as we counted and congratulated him with each lap completed. This daily lap running was necessary. For him and for us.
Boys need to run…that much is clear.
However, when it comes to aggression and roughhousing, what is acceptable? I see this all the time now amongst my son and his friends. They are often engaged in elbowing, pushing, and sometimes end up in a ball of laughter and tackles on the floor. It's hard for me to watch. It makes me uncomfortable.
I feel they are always teetering on the edge of hurting each other when they engage in this type of play.
While I don't want to be known as the "helicopter" type parent who shuts down "boy" play the minute it starts, I also don't want to turn a blind eye. It is clear to me that boundaries can easily be crossed. They are at an age when they are testing the waters and thus crave and desire our support and guidance.
To simply shrug off aggressive behavior as "boys will be boys", does a disservice to our boys at this tender age.
On the other hand, I also realize that boys need space and opportunity to work through social interactions with their peers and this may include the occasional roughhousing. My dilemma lies in how to not hover but rather, to be a keen observer and intervene if necessary.
The reality is, I cannot always be there. My son is in school now and must rely on himself and the guidance of his teacher. What my husband and I can do is talk to our son. We talk constantly to him about respect and safety. We remind him that a friend should not intentionally hurt him and that he should not hurt his friends. We try our best to instill him with the confidence to disengage in play that makes him uncomfortable.
I can only imagine that while roughhousing, some of this may get lost in translation.
So while I can clearly see the truth in "boys will be boys", I still believe it is up to us guide them and help them channel their abundant energy in positive ways. Sports, riding bikes, and free play time at the park are great ways to focus and release some of that energy.
In the meantime, I can accept that a wrestling match may break out amongst friends from time to time. My son certainly seems intent on honing his wrestling skills with my husband. Just last night he was begging, "Dad, come on, let's hustle". He meant wrestle.
We didn't correct him because in this era of his entrance into full fledged boyhood at warp like speed, we think it's the cutest thing ever.
Please, tell me, what do you think of this type of boy play? How do you feel about the notion, boys will be boys?