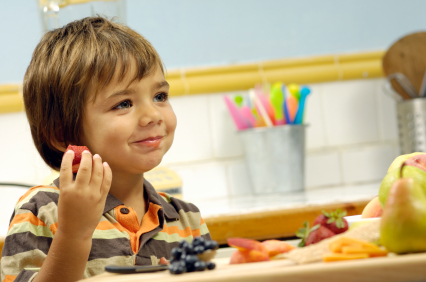 Dear Dr.Mom
I'm sure you get this one a lot, but my 20 month old won't eat anything anymore. Well, that's not exactly true. He will eat yogurt, pb&j, grilled cheese, applesauce, pop tarts, spaghetti, & soft tacos. Yep, that about covers it. He used to eat anything I put in front of him. Peas, carrots, green beans, sweet potatoes, meat, cheese. Now he won't try anything. I keep offering, but he's not taking. He's been going downhill on his eating habits for the past 2 or 3 months. My now 4 year old was never this picky & now he'll try anything, but I don't know how to get a 20 month old to try new foods or even eat the good stuff he used to eat.
Any suggestions? Do I just go with it & let him grow out of it? Or will that just develop bad habits?
Thank you!
—-Jami (aka @boycrazedmomma)
Jami, you are right, I do get this question a lot and for good reason. Becoming a "picky eater" and being a toddler, more often than not, go hand in hand. No one really knows why a switch is suddenly turned on (or off) when toddlers near their second birthday, but your formerly eager eater suddenly becomes suspicious of all food items placed in front of him. You are not alone.
I too have been faced with my own picky eater. I was just as distressed as you when mealtime came around. I couldn't understand why my son, who once happily gobbled up peas and blueberries, suddenly turned his nose to almost everything placed before him. I wrote about being a reluctant member of The Picky Eaters Club, here. I can completely commiserate. Still, there are some things you can do to lessen your worry and foster healthy eating habits in your picky little eater.
Here are some tips on how to get through your son's picky eating phase with your sanity intact:
First and foremost, realize it's not your fault. You didn't do anything wrong. Fortunately, you have an older child who is more adventurous when it comes to food. So, you know, this is really luck of the draw. Some children go through a definite picky phase.
Instead of focusing on each meal and what your child does or doesn't eat at each sitting, look at the big picture. Assess his overall eating habits within one week. You will be surprised to find that he actually does fairly well over the course of the week.
Continue to offer a variety of foods at each meal. Be sure there is at least one food that you know he will eat. Encourage him to try everything, even if it is just a taste. As he gets older, he will soon understand the concept of the no thank you bite.
Remember that at this age, a lot of this is also about control. Let him have some. When possible, give him choices between two healthy snacks: would you like apple slices or banana circles for a snack?
Sometimes, being silly works. Who wants to try some green power balls? (peas). Yes, I used this one on my son. Not magic, but he smiled and at least put one in his mouth.
Realize that it can take up to ten times for a child to accept a new food. Of course, it will seem like a hundred times. Don't give up.
You don't need to become a short order cook. Make what you normally would for your family but if you need to, modify. If he likes spaghetti without the sauce, make his plain with some parmesan cheese on top.
When eating, talk about how a variety of foods helps your son's body to grow so he can run, jump, play, and throw a ball. Remind him that he needs these foods to grow up healthy. He may not get it now, at 20 months old, but soon he will.
Keep in mind, he will continue to thrive and grow throughout this "picky" phase. Really, he will.
Give him a daily multivitamin to fill in the gaps and put your mind at ease.
Lastly, avoid food battles. As easy as it is to become frustrated and let that pour over onto mealtimes, do your best to make mealtimes peaceful and fun. He will, in all likelihood, outgrow his picky eating phase. In the meantime, do what you can by offering up healthy foods and maintaining a relaxed attitude. Remember, there is only so much you can do, the rest is up to him.
Do you have a picky eater too? What tips can you offer Jami?