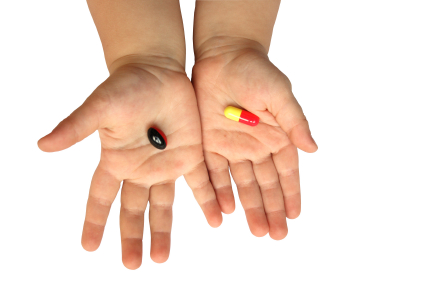 My child ingested a rogue pill.
Don't worry, she is okay. It was an Advil and apparently, it looked like an orange M&M. It certainly didn't taste like one as she quickly discovered. Most of it was spit out, but it scared me and my reaction certainly scared her.
The thing is, I had no idea this Advil, disguised as an orange M&M, was even lurking around on our couch.
This just happened last week, when I was home sick with the flu and popping Advil around the clock. I do remember dropping one on the floor and I couldn't find it. In my flu induced stupor, I recall thinking that I would find it later and that my children were certainly beyond the age of picking random things up and putting it in their mouths.
I was wrong. If it looks like candy…my three year old is still clearly willing to test it out.
Lesson learned. You can never be too careful when it comes to medication and keeping them out of a child's reach. Granted, I had no idea this pill was lying around. Still, I was remiss to not hunt it down when I couldn't find it.
It must have been on my clothing. I'm assuming that's how it got transferred to the couch, the place I could barely peel myself from for two days straight.
I share this with you as a cautionary tale. Parents Magazine does this in their monthly publication and I always read those. It really does help to know what could and has gone awry where safety and children are concerned.
So, consider this my safety mishap admission to you. Keep those medications out of reach and never, ever assume a rogue pill will not be enticing to a toddler or preschooler. This requires extra vigilance especially if your child lives with someone who takes pills on a daily basis for a medical condition.
Pay particular attention to pills stored in a pill case or in a purse. How many times has your toddler played "quietly" while emptying out your purse?
Vitamins should also be kept high and out of reach. Even the children's multivitamins can pose a danger. Iron contained in those vitamins can cause serious side effects if the child receives more than the recommended amount.
Keep the poison control number handy and if ever in doubt, call immediately and seek medical attention.
Poison control: 1-800-222-1222
Do you have a …it happened to me… moment that you would be willing to share?