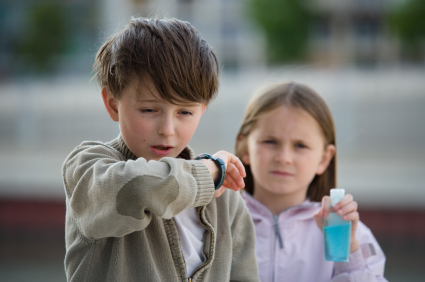 Yes, the flu is here. And by here, I mean right here in my home. Not just in my home…in me.
I type this through a dripping, yet congested nose (lovely combination), muscle aches, and a fever that keeps trying to hold me down. No, I'm not looking for more sympathy…okay, maybe a little. However, since I am living and breathing the flu right now, what better topic to tackle today for Ask Dr.Mom.
Back in December when I wrote a small health blurb for Sacramento Parent Magazine, Flu Got You Blue?, the flu seemed a distant entity. A hypothetical occurrence that may or may not affect you and your family. Well, hypothetical no more. It has hit us and I have seen a spike of cases in clinic within the last two weeks as well.
One of the most common questions I get regarding the flu is: how do I know if it's the flu? My short answer is…oh, you'll know. However, with your children, it isn't always so cut and dry, especially since they can only convey so much about how they are feeling.
Here are some flu facts to help you recognize, prevent, and treat it should your own child become ill.
What causes the flu? The flu is caused by the influenza virus and its various strains. 2009 saw the emergence of a new strain, the H1N1. These influenza viruses cause the respiratory illness known as the flu.
Signs and symptoms of the flu:
• Sudden onset of a high fever, usually over 101 F
• Profound muscle aches, fatigue, and headaches.
• Sore throat and a dry cough
• Nasal congestion or runny nose.
• Children may also experience nausea, decreased appetite, and possibly some vomiting and diarrhea.
Prevention:
• Hand washing. Encourage your child to wash her hands several times throughout the day. After using the bathroom, before eating, after playing on the playground, etc. This is especially important when they are living with someone who is currently spreading her germs all about (me).
• Use hand sanitizer if hand washing is not available.
• Make sure your child gets plenty of sleep, exercise, and a well balanced diet to keep his immune system in tip top shape.
• Get your child vaccinated against the flu. This year the seasonal flu shot will include coverage of the H1N1 strain as well as two other most common influenza strains. Ahem…yeah, I got vaccinated. What can you do? There are no guarantees.
Treatment:
• Keep your child home from school, make sure he gets plenty of rest, give him a fever reducer such as acetaminophen, and make sure he stays well hydrated.
• Stay on top of your child's hydration by offering clear liquids such as water or diluted juice frequently throughout the day. Fever combined with a decreased appetite can lend itself to dehydration. Remain vigilant about hydration.
• Antibiotics do not help since the flu is caused by a virus.
• Keep an eye out for possible complications such as pneumonia, ear infections, or dehydration. If your child suddenly spikes a fever on day 7 of the flu, after the initial fever has subsided, have her evaluated for possible secondary infection.
• Whenever in doubt, seek medical attention for your child.
For more information on this year's seasonal flu visit http://www.cdc.gov/
Has the flu hit your home? How are you coping?
Every Wednesday I will be answering a question from You! Please submit your parenting or health related question to mommamd4two(at)aol(dot)com. I'm looking forward to hearing from you and featuring your question