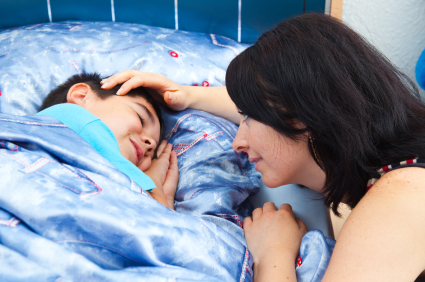 Dear Dr.Mom
My son, who will be eight in March still wets the bed nightly. The only time he doesn't have a wet pull-up in the morning is when I get up several times during the night and take him to the bathroom. His doctor says he'll probably outgrow it. But, it's bothering him a lot. He feels like he can't spend the night with friends, even cousins. He really wants to stop, but just can't. We have put no pressure on him at all(I hope that's not the problem). I've thought about ordering a bed wetting alarm. Any thoughts?
—-Thanks, Carol Anne
You are such a wise mom to not make a big issue of your son's bedwetting and to not put any pressure on him. As you have so keenly observed, he really cannot control it even though he really wishes he could. Your son's doctor is right in that he will eventually outgrow his bedwetting, most children do before they reach puberty. However, your son sounds motivated and there's no reason why he shouldn't try to achieve nighttime dryness sooner rather than later.
First, let's look at some facts regarding bedwetting and children:
Bedwetting is also known as nocturnal enuresis. This occurs in approximately 15% of children age 5 and older. These are children who have never achieved dryness at night.
Children who wet the bed do not have emotional problems. They did not do anything wrong. They are not lazy.
Children who bed wet typically produce more urine at night and do not wake up when they need to in order to empty their bladder. They are usually dubbed "deep sleepers" by their parents because they truly are deep sleepers.
Bed wetting occurs because a child's brain and their bladder fail to communicate at night. In time, the brain and bladder do eventually catch up.
Children who bed wet usually have smaller bladders than other children their age.
Bedwetting is genetic.
Children who bedwet should not be made to feel ashamed or guilty. They truly cannot help it.
85% of children who bedwet will eventually outgrow it without intervention.
Children older than age 6 who bedwet should still be evaluated by their doctor to ensure no other factors are causing their bedwetting, such as diabetes, chronic constipation, or a chronic UTI.
Now for the question at large, should anything be done about bedwetting? Wait it out or intervene?
Treatment should be based on the individual child.
In your child's case, he is both bothered by the bedwetting and sounds motivated to try something. So, I would say for him, it could very well be time to intervene.
By far, the most effective treatment out there is the bedwetting alarm. These alarms work by teaching your child's brain to respond to a full bladder even while sleeping. Unfortunately, this can take some time, typically about 12 weeks and can require night time parental help in the first few weeks. However, if done faithfully, dryness is usually achieved and without relapse.
Limiting fluids before bedtime may or may not help. Usually, children who wet the bed will still have nighttime accidents even in light of fluid restriction. It really depends on the child.
Another temporary treatment is a medication known as DDAVP. This medicine which is usually sprayed into the child's nostrils acts like his anti-diuretic hormone (ADH) and will decrease the amount of nighttime urine production. This does not cure bedwetting and is only a temporary fix, often used for sleepovers or camping trips.
The bottom line is that bedwetting is more common than you think and is something that will eventually stop on its own. However, for children bothered by bedwetting and motivated to achieve dryness, alarms are a good way to go. Just remember to empathize with your child and praise his efforts. Help him keep the big picture in mind: he won't always be wetting his bed, eventually his brain and his bladder will catch up with each other.
Do you have any stories to share on bedwetting?
Every Wednesday I will be answering a question from You! Please submit your parenting or health related question to mommamd4two(at)aol(dot)com. I'm looking forward to hearing from you and featuring your question.