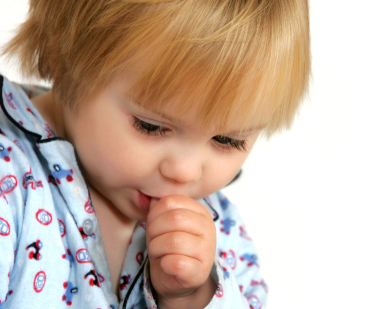 For today's Ask Dr.Mom, we will be talking about thumb sucking. This is a topic near and dear to my heart because…well…I was an avid thumb sucker as a child and I certainly remember having difficulty kicking this habit. Fortunately, most children who suck their thumbs give it up on their own volition and without any adverse effects on their teeth.
Still, I get plenty of questions from parents wondering what they should do about their child's thumb sucking. While most parents realize that sucking is a natural and soothing reflex in babies, they worry about prolonged thumb sucking. So, let's get to the bottom of thumb sucking and see if there is anything to worry about.
Why do babies suck their thumbs?
Sucking is a natural reflex and is a potent soother in babies.
Babies and children suck their thumbs (or pacifiers) when tired, bored, or need comfort
Children who suck their thumbs are typically easier to put to sleep and tend to start sleeping through the night earlier than their non-thumb sucking peers. That is certainly a plus.
When should I expect the thumb sucking to stop?
Well, this certainly varies, however, 85-99% of children who suck their thumbs will stop by 4-5 years old.
Many will give it up before this age. The key seems to be this: to not make thumb sucking a big issue. Apparently nagging your child to stop sucking her thumb can have the reverse effect.
Most children who are still sucking their thumbs by the time they enter kindergarten will soon give it up. Guess this is one of those rare instances when peer pressure may work in your favor.
Are there any reasons to worry about her teeth?
According to the American Dental Association, thumb sucking will not have any adverse effects on permanent teeth as long as the thumb sucking stops before those front permanent teeth erupt. This typically occurs around age 5 or 6.
Any tips for encouraging my child to stop sucking her thumb?
First and foremost, make sure your child is ready. If she is age 4 or older and has shown signs she wants to kick this habit, then yes, there are ways you can help her.
Praise your child when she is not sucking her thumb. Create a reward chart if necessary.
Avoid nagging or embarrassing your child about her thumb sucking. Instead, try distraction and engage her in a game or other activity in which she is using her hands.
Involve her in the plan. Have her come up with some of her own ideas on how she can avoid sucking her thumb. Come up with alternatives to thumb sucking when she is bored or tired.
Use her dentist or pediatrician to help bring home the message: she is getting to be a big girl and you want her teeth to grow in properly.
Above all, try to remember not to put too much pressure on your child. Soon enough this thumb sucking habit will be but a fond memory of her childhood.
Have any of your children been thumb suckers? Any tips to share on helping them kick the habit?
*Please submit your parenting or health related questions to mommamd4two(at)aol(dot)com. I love answering and featuring your questions here each and every Wednesday*
Pin It