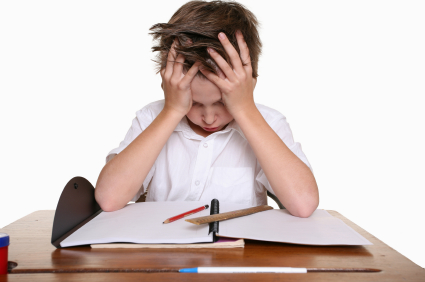 Welcome back to Ask Dr. Mom! Today, I'll be dealing with ADHD. The signs to look out for and what to do should you suspect your child may have it.
Dear Dr.Mom
I was wondering if you could enlighten me on the signs of ADHD in a child. And, what should be done if you suspect a child is suffering from this?
—Khara
ADHD is one of the most common chronic conditions in school aged children. Unfortunately, the number of children being diagnosed and treated for ADHD has risen in recent years. While I will list signs to look out for, what I hope you keep in mind and take away from my post is this: all children will, at one time or another, have some behavioral difficulties. What is different in children with ADHD is that their symptoms are frequent, severe, and interfere with their ability to function normally in school and at home.
Signs of ADHD:
Inattentive: difficulty focusing on task at hand, daydreams, easily distracted, is disorganized and loses things frequently.
Hyperactive: Child is in constant motion, cannot sit still and squirms a lot. Talks excessively.
Impulsive:  Will often speak and act before thinking. Is unable to wait or take turns. Often interrupts others.
Okay, well I think I've just described my five year old son! Right? Anyone else with me here?
So, yes, these symptoms are generic and can almost describe any child under the age of 6 at some point or another. What makes the difference? Here are the key differences:
-These symptoms must occur in more than one setting. Meaning, they must be present at school and at home
-These symptoms must be more severe and frequent than what would normally be expected for their age group
-Symptoms must be present for 6 months or more
-The symptoms must interfere with their ability to function at school or at home
Now what? What if you highly suspect your child is truly suffering from ADHD, what is your next step?
The next step is to see your child's pediatrician and get the diagnosis process started. There is no simple test for ADHD. The diagnosis is just that, a process.
This process should include a thorough history and family history regarding your child. You should be given something called a Connor's Rating Scale which is a questionnaire that you, your child's teachers, and any other caregivers, should carefully answer and return to your child's pediatrician. Your child should also be evaluated for other possible conditions affecting his ability to concentrate, such as a learning disability, anxiety, depressions, or conduct disorder to name a few.
In addition, your child must also meet the DSM-IV criteria for diagnosis of ADHD.
Once all of these conditions have been met and your child has been completely evaluated as outlined above, then and only then can a diagnosis be made. Also, a child under the age of 6 cannot reliably be diagnosed with ADHD.
I will not go into detail about treatment options in this post. You should work closely with your child's pediatrician, teachers, and possibly, specialists to put a treatment plan together. Just be aware of this: treatment is multifaceted here and is an ongoing process. Behavior therapy, parental education and training, environmental modification, and medication all play a role in successfully treating a child with ADHD and should be individualized for each child.
With all that being said, remember to look at your child in a positive light. Many children with ADHD are bright, talented, and creative children who just happen to have a different way of learning and interacting with others. Celebrate their talents and uniqueness and aim to uncover your child's specialness.
For more information on diagnosis and treatment of ADHD, visit HealthyChildren.org. This page has a plethora of information on all aspects of ADHD.
Do you have a story to share about a child in your life and ADHD?
Remember to submit your parenting or health related questions to mommamd4two(at)aol(dot)com or leave them in the comments. If you don't have a question but would like to see a specific topic covered here on Ask Dr.Mom please feel free to let me know!