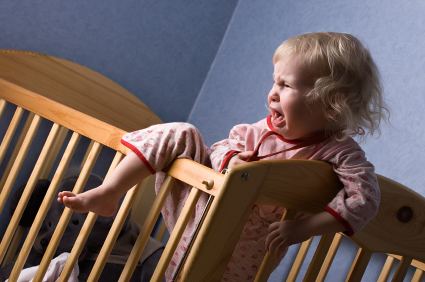 Yesterday morning I woke up to find the following e-mail in my inbox. Boy, did this sound familiar. All too familiar and I could easily relate to this mother writing to me at one o'clock in the morning…desperate for sleep. Desperate for some kind of solution. Just plain desperate.
I have been there. Her words could have easily been mine four years ago when I was dealing with my own midnight madness. I couldn't type my response to her fast enough.
Hi Dr. Mom!
I don't know if it is OK to write you an e-mail asking for advice…but I am DESPERATE.
Our daughter has always been soothed to sleep by us. Her 1st year we shared a family bed, where I nursed to sleep. As an infant she was very colicky and often slept on my chest for naps and/or I half-slept so she could peacefully sleep laying on my chest as I sat in a rocking chair.
I am at my breaking point; I haven't slept for more than 4 hours in a row in almost 2 years.
I know part of it is my fault. I couldn't ever bring myself to do the Ferber method, I preferred the Sear's method and it would work for a while. She would fall asleep in her crib and stay there for several hours until 3 or 4 in the morning and then she would cry for breast milk. However, something always came up (like an illness, teething, etc) and the cycle would be broken. She'd inevitably end up back in our bed.
17months snuck up on us and now we both have demanding jobs that wake us up very early and have a schedule WE need to stick to. At this point I am feeling so guilty that I haven't helped my daughter learn how to self soothe. All I want to do is hold her and rock her and nurse her to sleep. I KNOW she needs to sleep in her crib. None of us sleep well when she is in our bed now. She's restless and too big. I am also afraid of her falling out and getting hurt. I am writing you at 1am because I googled "sleep training 17month old" while listening to her scream..and it led me to you.
Desperate,
—Amy
Oh Amy, your story sounds so eerily familiar. My son (who is now 5) was the same way as your daughter. I remember those sleepless nights and the torture we both endured when I tried to "sleep train" him. I have to tell you, while sleep training does work for many babies and families, it did not work for us.
My son was what I like to call a high maintenance sleeper. He was otherwise completely delightful and a happy guy while awake, but oh my, did I dread bedtime. We ended up co-sleeping too. I talk about this in my post, The Accidental Co-Sleeper.
What I want you to know upfront and foremost is this: you are not a bad mom, you have not failed her. You are a mom who has tuned in to her child's needs and provided comfort and love when she needed it most. With that being said, I can see how you have reached a breaking point and so did I. I believe it hit me right around the same age as you (17-18mos).
You and your husband now realize that you are at a point where you need to reclaim your sleep and your bed. Just as with most parenting issues, finding the right sleep arrangement for your baby and your family can be a bit of trial and error. And of course, just when you think you've settled into a wonderful routine, there will be teething and illnesses to throw everything off kilter.
Don't beat yourself up over this. Unfortunately, there is no one way or method that will work for every child. Each child and each family will need to find the sleep arrangement that fits both the needs of the child and that of the parents. It sounds to me that you enjoy the nighttime cuddling but could do without the frequent night wakings and nursing sessions.
Don't expect your daughter to give all this up without some tears. However, with that being said, sounds to me you could do without the blood curdling screams that make your heart ache. Here is how I handled my high maintenance sleeper and finally reclaimed some of my sleep.
When my son was just about your daughter's age, I put a mattress on the floor in our room (next to my bed). This was a queen size mattress. I made sure to stick to a consistent bedtime routine that consisted of PJs, brushing teeth, a book, a song, and in your case a nursing session. I would help him fall asleep on that mattress. Once he was asleep, I would have a couple of hours before my own bedtime. That felt so nice.
Once my bedtime rolled around, I went to sleep in my own bed. When he woke up needing me, I would just hop down to the mattress and cuddle with him. Luckily, being on a queen mattress, I slept much more comfortably and he was happy to have me there.
I did have one very painful night when my cuddles and presence was not enough, he wanted me to get up, feed and rock him because that's what he was accustomed to. I did have to break that cycle. One night, I didn't get up, I just lay there next to him trying to soothe him to sleep. He screamed, wailed, threw himself on me until finally falling asleep. That was the first, last, and only time he did that. I suspect you may have to do this with your daughter if you want to break the midnight nursing session.
After that, we were able to sleep on that mattress on the floor. After a couple of months, I moved that mattress to his room. I did the same thing. I helped him fall asleep there and left to my own room once he was asleep. When he woke up crying or calling for me, I went in to sleep with him. The process was very gradual but after a few months, I was only going in once a night to comfort him and he went back to sleep much more easily.
Now? At 5, he sleeps through the night, on his own, in his own room. Not to say we've never had any setbacks, things do happen.
At age 3, I had to have a talk with him and remind him that sleep is important to everyone, including mommy and daddy. I let him know that if he wakes up at night and can't fall back asleep, he is welcome to come to our room and sleep on the floor but to please not wake us up. We set up some blankets and a pillow on the floor next to our bed. He listened!
We would sometimes wake up in the morning to find him sleeping on the floor. He didn't wake us, so that was fine with me. This only lasted a few weeks. After that, he pretty much stayed in his room.
I share this all with you because I want you to know that there is a light at the end of the tunnel. It often doesn't seem that way when you are in the depths of sleep deprivation. Just know that it will get better. I sincerely applaud you for relying on your mothering instincts. You are in tune to your daughter's needs but you also realize that now is the right time to make some changes.
A plus side to this seemingly tedious process? I never had to deal with the crib to toddler bed transition. Finally! We caught a break.
I hope this is helpful to you. Just an aside note; my second child, my daughter, was a much easier sleeper. I never had to endure blood curdling screams while trying to get her to sleep. I listened to her cues and at 6 months, I was able to lay her down to sleep in her own room. She whimpered for a very short time but no wailing or full on crying. She was able to self soothe much better.
Every baby is different. That much is clear. What works for one may not work for another. Just remember, you did everything right by listening to your baby's cues. Some babies are not amenable to "sleep training", however, you can still "wean" her off some of the dependence she has on you for sleep.
Sleep training, co-sleeping, or some combination of each…how did you finally get your baby to sleep through the night?