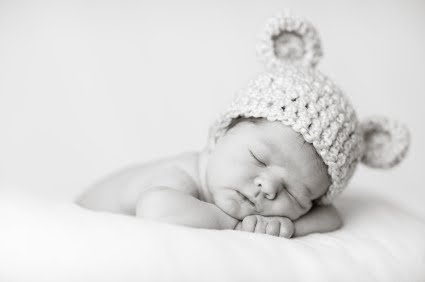 You have your beautiful bundle of joy and she is just perfect…healthy, adorable…yummy.  But wait…what's that? Why is her face covered in those not so flattering bumps? Allergy? Is it something you ate? Do you need to call your pediatrician? Maybe…but, take a quick look below…could be she's got something perfectly normal and oh so very common.  Recognizing these common newborn skin conditions may save you a lot of worry and, you can keep on enjoying your beautiful baby…bumps and all. 
What's going on with your baby's skin?
My baby's skin is peeling: This is perfectly normal and is most common on the hands and feet. It will go away on its own.
My baby has…pimples?  Yes, infant acne is very common and is caused by maternal hormones.  Another lovely side effect of those darn hormones.  Don't worry, this type of acne does not leave scars, do not apply any topical medications to her face.  Leave them alone, cleansing the face with warm water and gentle baby wash during her bath time is all that is needed. This should resolve by age 4-6 months.
What are those tiny white dots on her face? Most likely, this is Milia.  These pinhead size "whiteheads" are clogged pores and are most common on the nose and cheeks.  Again, this will resolve on its own, no need to do anything.
My baby has a bruise on his lower back:  Likely what you are observing is a Mongolian spot.  These flat, dark blue blotches can resemble bruises but you'll notice they don't go through the normal color changes that a bruise does. These are most common in Asian, Hispanic, and African American babies and are usually on the lower back and buttocks.  My son has these and at age 5, although they have faded, they are still noticeable. I've only had a couple people remark that they thought he had bruises and I had to kindly inform them that no, they are birthmarks…Mongolian spots to be exact.
What's that red patch on my baby's neck? A Salmon Patch or Stork's Bite/Angel Kiss is a very common flat, red splotchy birthmark usually found on the eyelids, mid-forehead, or nape of the neck. They will fade and disappear with time.
My baby gets red bumps that come and go but she doesn't seem bothered by it.  This is most likely Erythema Toxicum.  These red bumps surrounded by red blotchy rings may appear soon after birth and can appear anywhere on the body.  It comes and goes over several weeks. It does not itch or cause baby any discomfort. These will go away on their own.
I hope this quick little rundown on common newborn skin conditions helps.  Click on the links for the pictures. But, please remember…when in doubt…call your baby's Doctor. Anytime.  It is never normal for your baby to have a rash accompanied by a fever, or for your baby to look or act sick.